What is a Trane Comfort Specialist?
A Trane Comfort Specialist is an independent Trane dealer of the highest standing in every aspect of their business!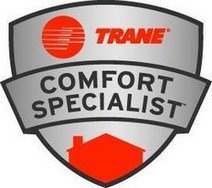 Your Expert Trane Dealer
Trane Comfort Specialist means the independent Trane dealer is committed to being the best in installation, service, customer satisfaction and employee training. Not every dealer qualifies as a Trane Comfort Specialist, but rather only those that meet Trane's stringent standards and who demonstrate a commitment to customer satisfaction and continuing education.
These dealers are committed to training to keep up to date with Trane's latest technology, ensuring that you receive a system that is designed to achieve maximum efficiency, reliability and comfort, as well as a system that delivers the efficiency its ratings promise and that you expect.
Testimonials From Customers...
Hannabery HVAC has a:
97% Customer Satisfaction Rating
Ratings are based on service, installation and customer satisfaction conducted by an independent third-party service and updated weekly.
And we won't be happy until it reaches 100%
Hannabery Earns Top Sales Volume Award for 2013
---
ALLENTOWN, PA. — Local business Hannabery HVAC received the Top Sales Volume Award for 2013 from Lyon Conklin & Co. Inc.
Zack Nicolai, owner of Hannabery HVAC, accepted the award from Tim Gilbride, general manager for Lyon Conklin, Mike Ziska, Sales Manager, and Jim Robbins, the district representative for Trane.
"We are very happy with the growth we've had in 2013. We value our customers and as an independent, locally and family-owned company we strive to deliver quality installations, the best name brands, and customer friendly service with fair and reasonable prices," said Service Manager Mike Smith.
Hannabery HVAC has been providing sales, service, installation, and maintenance of heating and air conditioning equipment to Eastern Pennsylvania homeowners and businesses since 1972. Specialties include indoor air quality and energy-saving products, geo-thermal heat pumps, custom ductwork, professional air duct cleaning and whole-home standby generator installations. For more information about Hannabery HVAC, call them at 610-366-9400 or visit them online at www.hannabery.com
Just another reason to choose Hannabery HVAC!
How Comfortable Do You Want To Be?
[Must be in our service area]