Electronic Air Cleaners...
Breathe Easy Again...
Relieves Allergies
Removes Odors
Traps Pollutants
Protects Equipment
Call Us Today!
Electronic Air Cleaners offer an advanced, easy-to-use, whole-house solution, trapping and filtering up to 99% of pollutants from the air passing through your heating and cooling system. They work by placing an electric charge on airborne particles, and then collecting the charged pollutants like a magnet.
---
Electronic Air Cleaners work with all gas, oil, and electric forced-air furnaces, heat pumps, and air conditioning systems. Standard ductwork modifications included in price.
---
Electronic Air Cleaners trap dust, pollen, mold, bacteria, viruses, dander, mites, smoke, and more! And they don't restrict airflow through your HVAC system the way some heavy-duty air filters can, thus providing better performance.
A Few More Notes...
40 Times more efficient at capturing airborne particles than a Standard 1" Air Filter!
Uses about the same amount of energy as a 40-watt light bulb!
Keeps HVAC system clean; saves money & extends equipment life!
Only The Best Name Brands...
---
Aprilaire Model 5000 Whole House Electronic Air Cleaner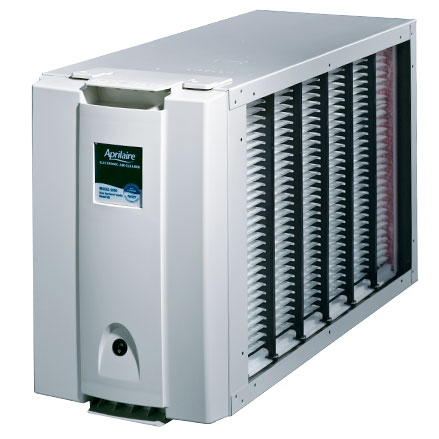 ---
The Aprilaire Model 5000 is over 99% efficient on pollen and spores and it's 94% efficient at removing disease-causing bacteria as small as 0.35 microns. It even traps harmful viruses with an efficiency of 80%.
---
What Makes The Aprilaire 5000 Special?
The Aprilaire Model 5000 combines the best characteristics of the two most popular types of high efficiency residential air cleaners: Electrostatic precipitation and Micro-fiber pleated media.
Airborne particles recieve a powerful positive static charge and then are captured in a negatively grounded micro-fiber air cleaner media. In essence, the particles are attracted to the media like metal filings to a magnet.
And unlike standard plate-type electronic air cleaners that lose efficiency over time and require regular maintenance, the Aprilaire Electronic Air Cleaner's special electronically enhanced media permanently traps particulate, so you get the efficiency you expect all the time!
---
The special Air Cleaner media lasts one to two years, and there's no monthly cleaning! This make the Aprilaire 5000 the perfect choice for tough-to-get-to units, such as attics and crawl spaces!
---
Trane CleanEffects Whole House Electronic Air Cleaner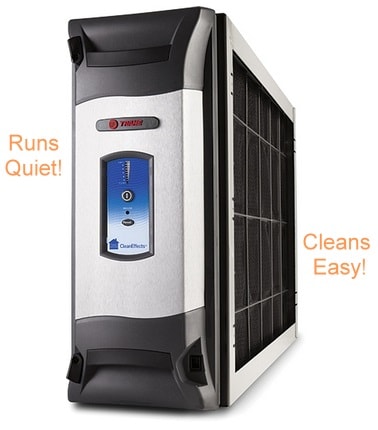 ---
Trane's unique technology offers the lowest pressure drop and highest efficiency of any filtration system available!
---
What Makes The TRANE CleanEffects Special?
The revolutionary TRANE CleanEffects air filtration system has the lowest pressure drop with the highest efficiency possible. This unique patented technology is designed to let air flow freely through the most advanced filtration system available. The result... more of your air is cleaned faster and more effectively than with anything else on the market!
Benefits Include:
Removal of up to 99.98% of particles and allergens from your filtered indoor air.
Easy to clean filters - just vacuum or rinse once every 3 to 9 months (depending on usage).
Low operating costs, with no replacement filters to buy.
Cleaning indicators easily visible on the outside of the unit.
---
TRANE CleanEffects has a ten-year limited warranty on electronics, and a five-year limited warranty on the filters.
---
As a licensed Air Conditioning & Heating Contractor, Hannabery HVAC provides high quality, professional electronic air cleaner installations, electronic air cleaner replacements, electronic air cleaner repairs, electronic air cleaner maintenance, and related services for the greater Lehigh Valley; including Allentown, Bethlehem, Easton, and all of Eastern Pennsylvania.
Have your Electronic Air Cleaner professionally installed today!
Call or click below
to receive your...
[Must be in our service area]