Air Conditioner Installations & Replacements...
Say Goodbye...
To the Dog Days of Summer!
Call Us Today!
Only The Best Name Brands
A traditional home comfort system has two parts: an indoor unit, such as a furnace or air handler, and an outdoor unit, also known as a condensing unit. An air conditioner is the outdoor unit that cools air and sends it to the indoor unit for circulation through your home.
---
Once you have air conditioning, you can't live without it!
---
Indoor and outdoor units are designed to work together. When the air conditioner is properly matched with the furnace/evaporator coil or air handler, along with properly sized ductwork, you then get a central air conditioning system that provides maximum efficiency, total comfort, and a longer system life.
Trane Air Conditioning Systems...
---
For Rugged Durability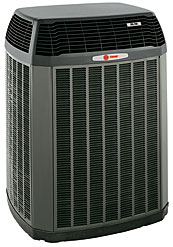 Every Trane air conditioner is packed with high-quality components. Each helps ensure that time after time, your unit will provide total comfort your family can rely on.
Trane Offers:
Climatuff Compressors®,
Spine Fin™ Outdoor Coils
Sound Insulated Compressors
DuraTuff™ Basepans
Rheem Air Conditioning Systems...
---
For The Toughest Scroll Compressors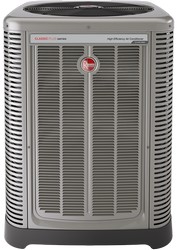 With a Rheem Air Conditioning system, you will enjoy long-lasting comfort and peace of mind from equipment that is built to provide your home or business with year-after-year of worry-free performance!
Rheem Offers:
The Latest Technology
Dependable Performance
Excellent Serviceability
Easy-Access Service Panel
York Air Conditioning Systems...
---
For Compact, Space-Saving Design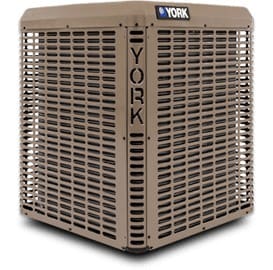 Take Comfort, Year in and Year out with York Equipment... Proven Design for Efficiency, Performance, Comfort, and Reliability!
York Offers:
Super-Efficient MicroChannel Coil
Raised Fan Coil Guard
Exceptionally Quiet
Attractive Appearance
Goodman Air Conditioning Systems...
---
For Energy-Efficient Home Comfort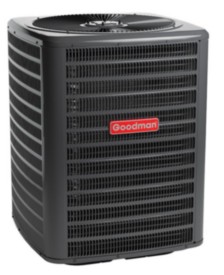 All Goodman air conditioners are loaded with features designed to provide outstanding, energy-efficient performance for years to come!
Goodman Offers:
Louvered coil guards
Factory-installed filter driers & high-capacity muffler
Contactors with lugs
Energy Star Rated & AHRI Certified-ETL Listed
All of our Air Conditioners use Earth-Friendly R-410A refrigerant!

As a licensed Air Conditioning Contractor, Hannabery HVAC provides high quality, professional air conditioning installations, air conditioning replacements, air conditioning repairs, air conditioning maintenance, and related services for the greater Lehigh Valley; including Allentown, Bethlehem, Easton, and all of Eastern Pennsylvania.
Have your new Air Conditioner professionally installed today!
Call or click below
to receive your...
[Must be in our service area]