Oil Furnace Installations & Replacements...
For Pure Comfort...
Nothing Beats Oil Heat!
Call Us Today!
Only The Best Name Brands
Today's High-Efficiency Oil Furnaces combine state-of-the-art technology with old-school quality and dependability. Replacing your exisiting oil furnace with a modern, high-efficiency model can help you reduce heating costs considerably and deliver reliable, clean comfort for years to come.
---
With fuel costs rising, choosing a heating system that will reduce your future energy consumption is one of the smartest investments you can make!
---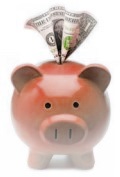 And with that investment, you'll be rewarded not just with a reliable furnace and a manufacturer's warranty, most likely you'll also have a much more energy-efficient unit. Energy-efficient standards have vastly improved.
And new furnaces have other advantages than just efficiency. Not only do they pollute less, but operating noise on new models are much lower than that of older furnace models. And a new oil furnace will also produce more even heating and maintain its temperature at a more constant level.
Trane XP Oil Furnaces
---
Up to 85% Efficiency Rating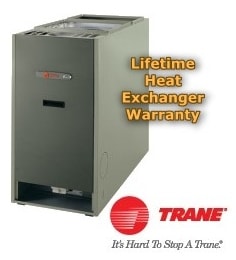 Every High Quality Trane Oil Furnace includes a limited lifetime heat exchanger warranty and a ten-year limited parts warranty!
About Trane Oil Furnaces:
Heavy Duty, Steel Heat Exchanger - provides reliable, lasting comfort.
Ceramic Fiber Combustion Chamber - heats up quickly and provides more complete combustion.
Beckett Flame Retention Burner - for smooth, quiet and cleaner ignition.
4-speed blower motor - extremely quiet operation.
Rheem Classic Oil Furnaces
---
Up to 85.9% Efficiency Rating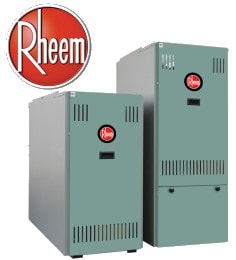 Rheem Oil Furnaces are so reliable, they carry a limited lifetime heat exchanger warranty and a five-year limited parts warranty!
About Rheem Oil Furnaces:
Stainless steel primary and secondary heat exchangers are built right into every Rheem Oil Furnace, distributing heating comfort evenly throughout your home.
Upflow Hi Boy and Lo Boy Models available.
Front clean out ports extend through front wall for accessibility.
ECM Direct Drive blower assemblies for heating and air conditioning applications.
---
All Furnace Installations Include Free Removal of Old Equipment!
---
As a licensed heating & air conditioning contractor, Hannabery HVAC provides high quality, professional oil furnace installations, oil furnace replacements, oil furnace repairs, oil furnace maintenance, and related services for the greater Lehigh Valley; including Allentown, Bethlehem, Easton, and all of Eastern Pennsylvania.
Have your new Oil Furnace professionally installed today!
How Comfortable Do You Want To Be?
[Must be in our service area]