UV Air Treatment Systems
For a Clean, Germ-Free Home...
Call Us Today!
Mold and bacteria can grow on the surface of your cooling coil. Left unchecked, buildup of these contaminants can reduce system efficiency and release potentially harmful pollutants into the air you breathe.
UV lamps are designed to bathe your cooling coil and HVAC system with intense UV-C light. These lamps sterilize coil surfaces to maximize system efficiency and protect the air you breathe.
Hospital Grade Protection!
---
An Ultraviolet Air Treatment System attacks and kills surface mold and airborne bacteria that can grow inside moist heating and air conditioning systems.
---
Why Choose a UV Air Treatment System?
Top 7 Reasons...
Highly Effective...

Eliminates up to 99.9% of mold spores in your system

High Rate of Success...

Kills up to 87% of certain airborne bacteria passing by the system

Highly Efficient...

Helps to maintain system efficiency and airflow, which saves money by not having to have your sytstem coil cleaned as often

Long Lamp Life...

SmartLamp™ technology optimizes efficiency of lamp run time, and LED lets you know when lamp replacement is needed

Safe...

Sealed unit design and multiple interlocks prevent accidental contact with UV rays

Quiet...

Completely silent operation

Reliable...

Includes a 5-Year Warranty
Easy Bulb Replacement: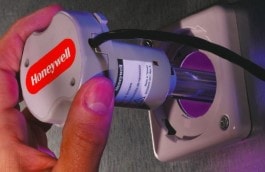 Healthy UV Lights help provide cleaner air for your home. You can help reduce your family's exposure to potentially harmful airborne pollutants by having a UV light installed with your heating and cooling system. A home with poor indoor air quality may aggravate illnesses and allergies.
UV lights work by emitting intense light that reacts with harmful contaminants in your heating and cooling system helping to minimize the concentrations of potentially harmful microorganisms to help eliminate pollutants from indoor air.
Configured For Your System:
The result is cleaner heating and cooling equipment that delivers improved efficiency and cleaner air by destroying contaminants living on the cooling coil. It is this process which helps purify the air and reduces the pollutants and contaminants like mold and bacteria that may enter your heating and cooling system. Such contaminants may also reduce the performance of your system.
---
UV rays kill germs that breed in drain pans and A/C coils and helps eliminate... "Dirty Sock Syndrome"
---
As a licensed Air Conditioning & Heating Contractor, Hannabery HVAC provides high quality, professional UV air treatment system installations, UV air treatment system replacements, UV air treatment system repairs, UV air treatment system maintenance, and related services for the greater Lehigh Valley; including Allentown, Bethlehem, Easton, and all of Eastern Pennsylvania.
Have your new UV System professionally installed today!
Call or click below
to receive your...
[Must be in our service area]