Service Technicians & Installation Mechanics:
---
Applicant should be experienced in Gas, Electric, Oil, & Heat Pumps; for both Residential & Commercial applications.
Here at Hannabery, we are always looking for qualified individuals with a strong work ethic, a commitment to excellence and a desire to join a winning team.
We are an equal opportunity employer and provide great benefits. If you are interested in applying, please call our office at 610-366-9400 to schedule an appointment.
Come work for the leader in HVAC. Big enough to be number one. Small enough to still care. Come work in the Lehigh Valley, it's a great place to live. If you are from another area, come visit us.
We are within two hours of New York City, The Jersey Shore, Atlantic City, The Pocono's, Philadelphia, Hershey Park and Dorney Park, (right here in Allentown), the beautiful Amish country of Lancaster, historical sites, museums, universities, great hospitals, schools, and parks, excellent hunting and fishing.
The Lehigh Valley is the perfect combination of country, suburban areas and city life all rolled into one.
Serving Eastern PA homeowners & businesses for over 35 years!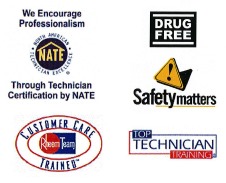 How Comfortable Do You Want To Be?
Call us at 1-800-544-4328
[Must be in our service area]