Digital Thermostats...
Precision, Comfort, Savings...
Call Us Today!
All thermostats backed by an impressive 5-year Manufacturers warranty!
---
Digital thermostats offer more comfort & features with precise accuracy. And programmable thermostats can save money & energy - up to 33% of your annual heating and cooling costs!
---
Only The Best Name Brands...
Nest Learning Thermostat
So Smart, It Programs Itself!
The Nest Learning Thermostat automatically adapts as your life and the seasons change. Just use it for a week and it programs itself.
Honeywell Wi-Fi Enabled Thermostat
Complete Comfort Control!
Remotely control your thermostat, get temperature alerts, and manage energy costs through a smartphone, tablet or computer.
Honeywell Programmable Thermostat
The First Effortless Thermostat!
The VisionPRO guides you through the programming process, reducing the need for an owner's manual.
Honeywell Soft-Touch Programmable Thermostat
Easy to See, Easy to Program!
Choose the FocusPRO 6000! It offers the perfect blend of features, performance and value.
Honeywell Round Non-Programmable Thermostat
It's Modern & it's Retro!
Features one touch backlighting, with set-point temperature memory in case of power failure, and it's easy to use!
Honeywell Thermostat Guards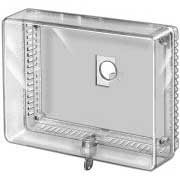 Great for Homes & Businesses!
Honeywell's Versaguard is available for virtually any wall mounted thermostat. Honeywell's universal thermostat guards provides maximum protection from tampering and damage.
Choose from clear plastic, opaque plastic, or scratch-resistant metal covers.
As a licensed Heating & Air Conditioning Contractor, Hannabery HVAC provides high quality, professional thermostat installations, thermostat replacements, thermostat repairs, and related services for the greater Lehigh Valley; including Allentown, Bethlehem, Easton, and all of Eastern Pennsylvania.
Have your new Digital Thermostat professionally installed today!
Call or click below
to receive your...
[Must be in our service area]