Honeywell Soft-Touch Programmable Thermostat
---
Easy to See, Easy to Program!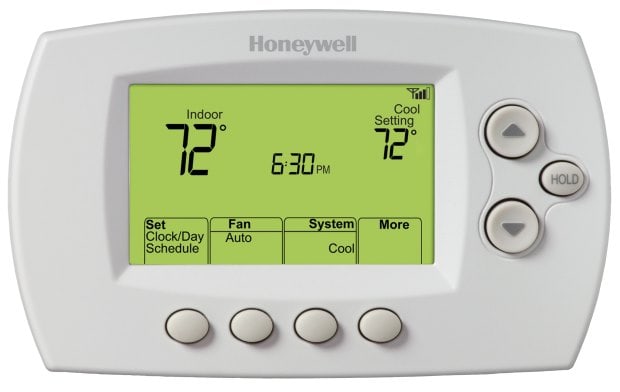 ---
The FocusPRO® 6000 offers the perfect blend of features, performance and value!
---
For Simplicity & Comfort...
With the largest backlit screen in its class and an easy-to-read digital display, FocusPRO® 6000 prominently displays both room and set temperature.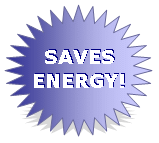 So easy to use, the FocusPRO® 6000 even includes Built-in instructions with a simple, pull-out instruction manual.
Plus, with the FocusPRO® 6000, you'll enjoy energy savings by setting the simple programming periods to fit your lifestyle.
---
One-Touch Temperature Control Overrides Program Schedule at any Time!
---
The FocusPRO® 6000...
Features & Benefits:
Adaptive Intelligent Recovery...

Ensures programmed temperature is reached by programmed time.

Weekday/Weekend Programming...

Use a 5-1-1 (weekdays, Saturday, Sunday) or 5-2 (weekdays, weekend) programmable thermostat, whichever best fits your lifestyle.

Energy Savings...

When used properly, can save up to 33% on annual heating and cooling costs!

Precise Comfort Control...

+/- 1 degree Fahrenheit, maintaining consistent comfort to the highest level of accuracy!

Easy-Access Battery Replacement...

Flip-out door allows for easy battery replacement without removing or disassembling the thermostat.

Temperature Range Stops...

Prevents user from setting the temperature too high or too low.

Built in Compressor Delay...

Prevents damage due to short cycling.
Backed by an impressive 5-year Manufacturers warranty!
Applications: 24 volts, works with all conventional systems (Gas, Electric, Oil, and Heat Pumps with aux. backup heating)

The #1 Choice of Homeowners
As a licensed Heating & Air Conditioning Contractor, Hannabery HVAC provides high quality, professional thermostat installations, thermostat replacements, thermostat repairs, and related services for the greater Lehigh Valley; including Allentown, Bethlehem, Easton, and all of Eastern Pennsylvania.
Have your Honeywell Thermostat professionally installed today!
Call us at 1-800-544-4328
or click below to receive your...
[Must be in our service area]