Water Heater Installations & Replacements...
You've Got Choices!
Electric
Gas
Propane
Tankless
Hybrid Heat Pump
We Can Help!
We offer a full range of water heaters to take care of your family's hot-water needs; from basic economy models to the highest efficiency units available, including the latest in wall-mounted, space-saving tankless models, and hybrid heat pump models. And all of our water heaters and installations are backed by the best warranties in the business.
---
Did you know... Water heating represents the second largest consumption of energy in the home after heating and cooling!
---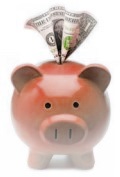 With fuel costs rising, choosing a hot water heater that will reduce your future energy consumption is one of the smartest investments you can make! Hybrid Electric models for instance, are the most efficient water heaters available – some with up to $4,000 in lifetime savings and less than 2 year payback!
---
Did you know... The average life expectancy of a water heater is only about 8 to 12 years. And when it fails, it can leave a mess!
---
Don't flood your basement or your home! All water heaters leak, eventually. It's a fact! If your water heater is over 10 years old, be proactive and replace it with a new water heater before it fails!
Conventional Water Heaters: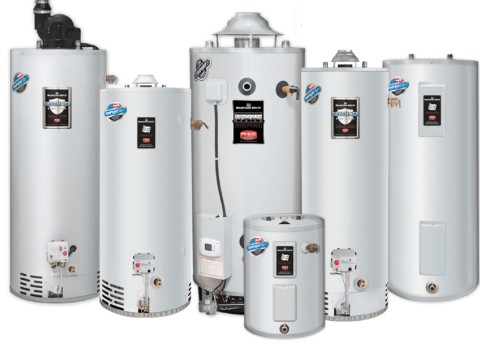 Conventional storage water heaters remain the most popular type of water heating system for homes and buildings. This is mostly due to price and familiarity. Storage water heaters operate by releasing hot water from the top of the tank when you start to use hot water. To replace the hot water, cold water enters the bottom of the tank, ensuring that the tank is always full. Residential water heaters typically store 40 to 80 gallons of hot water.
Because water is constantly heated in the tank, energy can be wasted - even when you're not using hot water. This is called "standby heat loss", thus costing you more money to operate. Only tankless water heaters avoid standby heat loss. However, some conventional water heater models have heavily insulated tanks, which significantly reduce standby heat loss.
Tankless Water Heaters: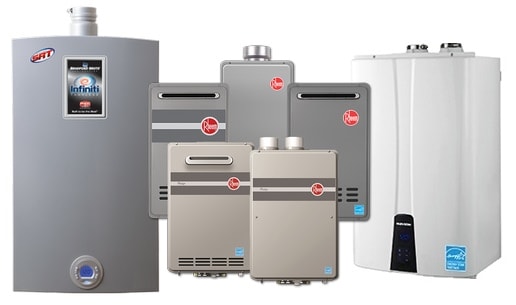 Tankless gas water heaters are today's most popular "green" hot water solution. No matter how many body sprays and showerheads, no matter how deep the whirlpool, you will not run out of hot water with a properly sized tankless water heating system.
Tankless gas water heaters are more energy-efficient than conventional tank heaters, because they eliminate the need to maintain a large supply of pre-heated water. Tankless units provide hot water on-demand at a precise temperature needed, so there is no storage and therefore no need to expend energy heating that stored water.
About the size of a medicine cabinet, tankless water heaters can easily be mounted to the wall. Convenient digital controls make it easy to adjust the temperature - for convenience as well as safety.
How they work...
A hot water tap is opened.
The opened tap allows water to flow through the water heater. An internal water flow sensor detects this flow.
Upon flow detection, the flow sensor sends the activation signal to the computer board.
The computer automatically ignites the burner.
As water flows through the heat exchanger, it absorbs heat from the burner.
By the time the water exits the heater, it has reached the designated set temperature.
When the hot water tap is closed, the water heater automatically turns off.
See figure below...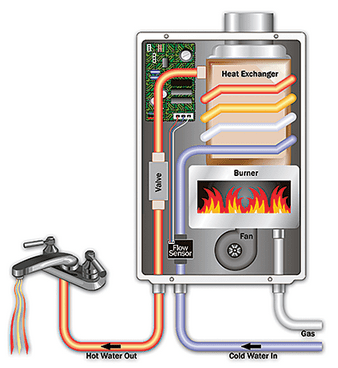 Hybrid Heat Pump Water Heaters: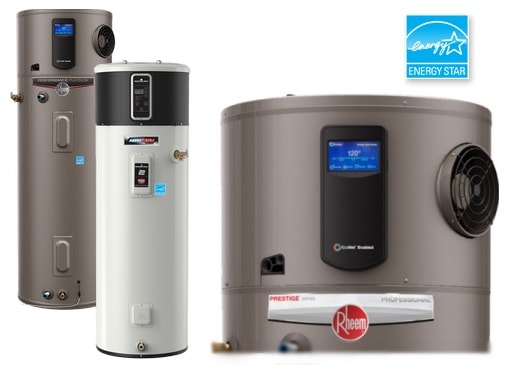 A hybrid heat pump water heater gives you the same reliable hot water as a standard electric water heater — only it uses less than half as much energy. And it can save you money by lowering electric water heating costs by up to 60%, and reliably continuing those savings year in and year out. You may even qualify for utility rebates and tax credits that make a heat pump water heater even more affordable.
How they work...
To understand the concept of a heat pump water heater, imagine a refrigerator working in reverse. While a refrigerator removes heat from an enclosed box and expels that heat to the surrounding air, a heat pump water heater takes the heat from surrounding air and transfers it to water in an enclosed tank.
During periods of high hot water demand, hybrid heat pump water heaters switch to standard electric heat automatically (hence "hybrid" hot water heaters). They come with a control panel that you to select from different operating modes, which include:
Efficiency/Economy – Maximizes energy efficiency and savings by only using the heat pump to heat water.
Auto/Hybrid – The default setting is ideal for daily use, providing energy-efficient water heating with sustained heat.
Electric/Heater – This high-demand setting is the least energy-efficient, using only the electric element to heat water.
Vacation & Timer (not available on all models) – Saves on energy when you are away from home by placing the unit in "sleep" mode until you return.
See figure below...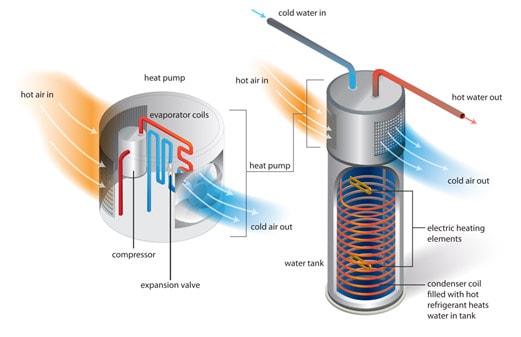 We Install Only The Best Name Brands!
Bradford White Water Heaters...
---
With Hydrojet® Total Performance System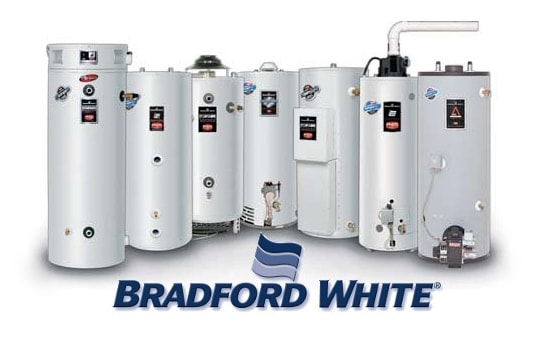 Bradford White: Built Strong, Tested Tough, Ready To Roll!
About Bradford White Water Heaters:
Bradford White residential water heaters are available in configurations for nearly every residential application. They are offered with fuel sources including natural gas, propane gas, electric, and oil.
Bradford White residential water heaters include exclusive features, at no extra charge, that are found nowhere else. Some these include the Hydrojet® Total Performance System, Vitraglas® tank lining, a tamper-proof brass drain valve, and the ICON System™ intelligent gas control.
Bradford White offers multiple styles to suit your specific needs including atmospheric vent, power-direct vent, power vent, direct vent, point-of-use, storage, and tankless models.
Rheem Water Heaters...
---
From Traditional to High Efficiency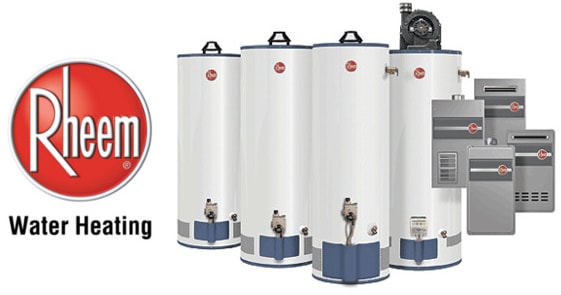 Rheem provides hot water solutions for every lifestyle and budget!
About Rheem Water Heaters:
Over our history we've continued to build upon our foundation of traditional tank-type water heaters to offer some of the most efficient and high performing water heaters available today.
Our collection of tank-type water heaters is a great display of our commitment to offering the perfect balance of value, performance and features for every lifestyle and budget.
Rheem tankless water heaters provide the comfort and convenience of having a continuous supply of hot water. Our gas models are great as a hot water solution for homes with busy families, homes with luxury bathrooms and vacation homes.
Navien Water Heaters...
---
The Leader in Condensing Technology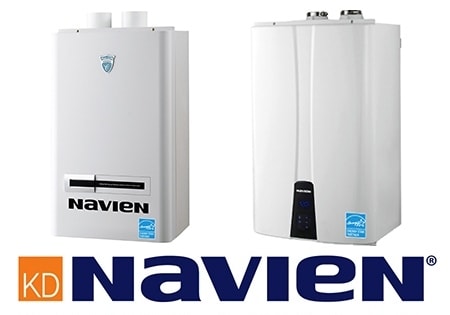 Extremely Efficient, Eco-Friendly, Money-Saving Tankless Heaters
About Navien Water Heaters:
Navien's Condensing Tankless Water Heaters can provide an endless supply of hot water on demand because our units activate the second you open the hot water tap. Each time you turn on the faucet, shower, or other water outlet, Navien's Condensing Tankless Water heater will immediately detect the flow and begin delivering the desired hot water.
Unlike the conventional storage tank water heaters that will eventually run out of hot water, Navien's Condensing Tankless Water Heaters can deliver an endless supply because they only produce hot water when you need it which limits energy and water waste. With a Navien Tankless Water Heater, you will never have to worry about running out of hot water no matter how much you use at a single time.
With proven condensing tankless technology, Navien Tankless offers improved efficiency, reliable quality and long-lasting durability.
As you can see, you have a lot of choices when it comes to water heater replacements. Don't wait for your water heater to fail, which it will, forcing you to rush out and put in whatever is available. By being proactive and doing a little research, you can end up saving a lot of money, and being happier in the long run. Give us a call, we can help you choose the best fit for your needs.
---
All Water Heater Installations Include Free Removal of Old Equipment!
---
As a licensed heating & air conditioning contractor, Hannabery HVAC provides high quality, professional water heater installations, water heater replacements, water heater repairs, and related services for the greater Lehigh Valley; including Allentown, Bethlehem, Easton, and all of Eastern Pennsylvania.
Have your new Water Heater professionally installed today!
Call or click below
to receive your...
[Must be in our service area]