Premium 1" Pleated Air Filters
MERV8 Filtration
Affordable
Easy
Effective
Call Us Today!
The Perfect Upgrade From Standard 1" Air Filters!
---
Don't settle for flimsy, less efficient, more restrictive, store-bought air filters. Order our Superior MERV 8 Filters today!
---
This is a MERV 8 Pleated, 1" Air Filter featuring a filtering medium that is extremely efficient and ecologically friendly. Made entirely from recycled materials, this medium achieves MERV 8 efficiency with low resistance to airflow. And that is critical - many other high efficiency air filters block too much airflow.
Our MERV 8 Pleated Air Filter is made up of 100% synthetic media, which offers significantly higher particulate efficiency than regular poly/cotton media pleated filters, with little change in static pressure. Each filter is effective for 90 days against pollen, pet dander, bacteria, dust mites, mold, and household lint.
As an added benefit, our MERV 8 Pleated Air Filter will not promote the growth of bacteria, mold, mildew, or fungi in normal operating environments, and has not been chemically treated.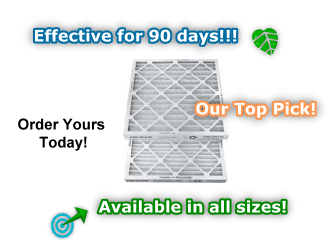 For Healthier Air & Cleaner Equipment...
Choose MERV 8!
Each filter is designed to last up to 3 months!!!
Low Pressure-Drop Filter - Does not restrict airflow!
Fits Residential, Commercial, and Industrial Applications.
Unaffected by high humidity - It's non-moisture absorbing, so no MOLD worries!
Improves equipment protection!
Special Orders and Non-Standard Sizes Also Available!
Call For Pricing!
---
Order by the Case and Save Money!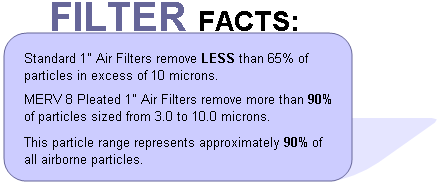 The MERV 8 by Glasfloss Industries - Excellence in Air Filtration Since 1936.
Order your MERV 8 High-Efficiency Pleated Air Filters today!
Call or click below
to receive your...
[Must be in our service area]