Hannabery HVAC
How Comfortable Do You Want To Be?
Call Us Today!
History:
Hannabery HVAC was originally established in 1972 as Hannabery Electric and incorporated in 1976 as Hannabery Electric, Inc. At that time we were an electrical contractor, specializing in residential wiring. In the early 1980's we began installing central air conditioning systems, and by the mid 1980's became quite involved in the "re-introduction" of the electric heat pump.
As time passed, our business focus shifted from electrical contracting to central heating and air conditioning and we adopted our present name, Hannabery HVAC. Today, we devote all of our effort to HVAC sales and service and enjoy an excellent reputation for quality work and business integrity.
Today, we are Eastern Pennsylvania's premier heating and air conditioning contractor with several locations and over 100 employees to serve you better. Our EPA certified, factory trained technicians are neat, courteous, and service all makes and models of equipment. We also offer 24-hour emergency service for our Silver, Sterling, and Diamond Plan customers.
Training:
Tap photos for more info...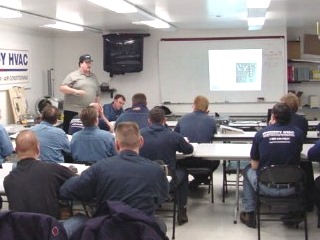 Continual Training
Our service technicians, installation crews, salesman, and office staff are all highly trained, and ready to meet all of your HVAC needs!
Call Us Today!
Training is key at Hannabery and we raised the bar for the industry. We called for our industry colleagues to help establish a standard of education and training, and abide by a code of ethics to ensure customer satisfaction.
We formed a state-of-the-art HVAC training facility, including a one-of-a-kind Radiant Training Simulator, both designed to upgrade the skills and level of knowledge of our technicians and employees, providing you with the most professional service in the industry.
And most importantly, our EPA-certified technicians are perhaps the most highly trained group of technicians in the industry, constantly upgrading their skills by attending seminars, schools, and training classes!
HVAC Services: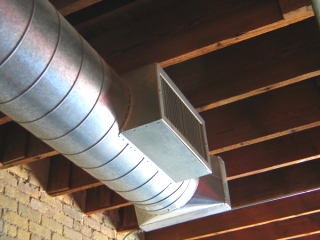 Custom Ductwork
Did you know that the efficiency of your HVAC system, and the comfort it provides is directly related to the design and quality of your ductwork?
Call Us Today!
We offer custom ductwork and ventilation for residential and commercial applications, including restaurants, hotels, and churches. After all, Ventilation is our middle name! We also offer a professional duct cleaning service by trained technicians and a thorough duct balancing process to ensure your HVAC system is operating at full potential.
Hannabery HVAC is proud to be one of the few companies in our area that designs, installs, and services our own Radiant Heating Systems for Residential and Commercial In-Floor Heating and Snow and Ice Melting applications.
Policies & Warranties: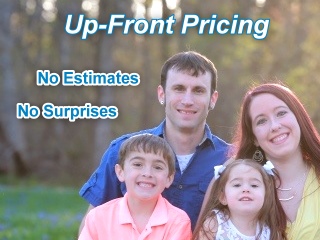 Up-Front Pricing
The total and exact cost of the job is known before it even begins. So no more surprises when the bill comes!
Call Us Today!
We offer Up-Front Pricing - We show you exactly what the cost will be for repairs. The repair is based upon the total cost of the job itself including labor, materials, taxes etc. It doesn't matter how long it takes, or what problems may occur in doing the job, the price stays the same! No hidden costs. No hidden surprises. Ever!
All of our installations come with at least a one year parts and labor warranty. Any service repairs we make are guaranteed for 30 days and 60 days for maintenance contract customers. Extended warranties, manufacturer's warranties, Inspection Plans and Maintenance Contracts are all available upon request.
So, In Conclusion...
When it comes to caring for your living environment, you need a company you can trust and rely on. Hannabery HVAC is that company! In business since 1972, we have the experience to meet all of your HVAC needs.
How Comfortable Do You Want To Be?
Call or click below
to receive your...
[Must be in our service area]