Maintenance Plans To Fit Your Lifestyle!
For Total Comfort!
Call Us Today!
Our 27-Point Oil Burner Inspection List:
---
Check over-all condition of furnace or boiler
Clean heat exchanger
Remove & clean flue pipe & base of chimney
Reinstall flue pipe & seal joint at thimble
Seal any clean-out doors
Service oil burner
Replace nozzle
Inspect end cone
Clean & inspect electrodes for cracks & wear
Replace oil filter & gasket; oil gasket with lubricating oil
Clean & replace fuel pump strainer & gasket (if applicable)
Clean & inspect cad cell
Check all wiring & tighten all connections
Oil motor
Clean oil burner fan
Start up burner & check operation
Check pump pressure and vacuum readings
Check safety controls, limits, etc
Perform combustion efficiency test
Check draft overfire & in breech
Do smoke test & adjust for a clean fire
Recheck draft overfire if air band adjustment was made
Check CO2 overfire & in breech
Clean up furnace & surrounding area
Take stack & net stack temperatures
For boiler systems, check all pumps, valves, & controls for correct function
Check fuel level in oil tank & advise customer if low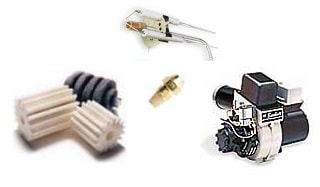 We've Got You Covered... 24-7-365
---
(24 hour Emergency Service is for Silver, Sterling, & Diamond Plan Customers Only)
In order to qualify for the Silver or Sterling Plan, an Oil Burner maintenance must be combined with an A/C or Heat Pump maintenance. The only exception would be a Boiler or Oil Furnace that does not have central air conditioning in the home.
Routine maintenance and repairs are performed during normal business hours: Monday through Friday from 8:00 AM to 4:00 PM. Evening and weekend service is for emergency and no heat calls only.
Please contact our office for pricing or for any questions you may have. Our service coordinators are available to personally assist you during our normal business hours of 8:00 am - 5:00 pm, Monday through Friday.
Order your Annual or Semi-Annual Maintenance Plan Today!
How Comfortable Do You Want To Be?
[Must be in our service area]