The Nest Learning Thermostat
---
Saving energy never goes out of style!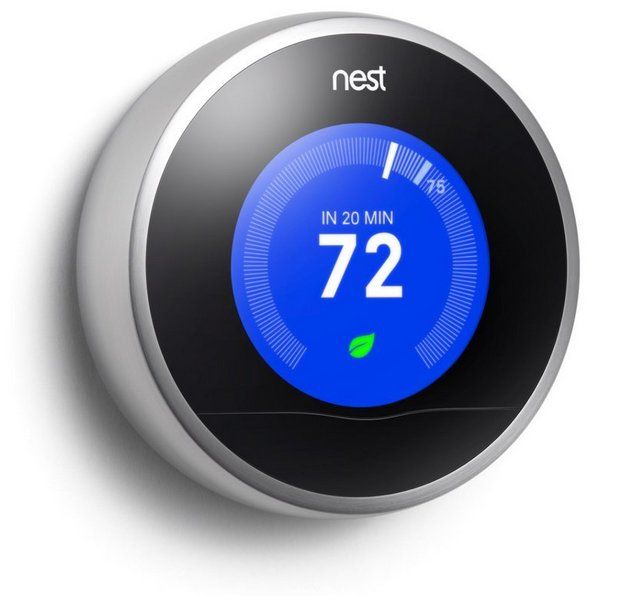 ---
The Nest Thermostat learns from you, creates a schedule and is proven to save energy!
---
Programs itself. Then Pays for itself...
The Nest Thermostat works in most homes. It figures out what system you have and turns on the right features for you.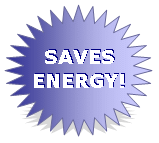 Being a Nest Pro Contractor, we can remove and recycle your old thermostat, install the Nest Thermostat, connect it to your Wi-Fi network and give you a quick demo.
Plus, the Nest Learning Thermostat is Energy Star® certified, and it can pay for itself in less than two years.
Get Nest On Your Wall...
In independent studies, the Nest Thermostat saved an average of 10% to 12% on heating bills and 15% on cooling bills.
---
As a Nest Pro Contractor, along with our guaranteed, expert installation, you'll receive an extended 5 year warranty!
---

The Nest Learning Thermostat...
Features & Benefits:
Auto-Schedule...

Nest learns the temperatures you like and programs itself in about a week.

Farsight...

When Nest spots you across the room, it lights up to show you the time, temperature or weather.

Home/Away Assist...

Nest automatically turns itself down when nobody's home to help you save energy.

Energy History...

Check your Energy History in the Nest app to see how much energy you use and why.

Remote control...

Connect your thermostat to Wi-Fi to control the temperature from your phone, tablet or laptop.

Nest Leaf...

You'll see the Leaf when you choose a temperature that saves energy. It guides you in the right direction.
And with the free Nest app, you are always connected to your thermostat!
Applications: The Nest Learning Thermostat works with 95% of 24V heating and cooling systems, including gas, electric, forced air, heat pump, radiant, oil, hot water, solar and geothermal.
More Nest Products...
Nest products are made to work together. And they can even work with lights, locks and other products in your home. For example, heating systems can cause carbon monoxide leaks or spread smoke through your home in a fire. In an emergency, Nest Protect tells your Nest Thermostat to turn off the heat to keep the danger from spreading.
Nest Protect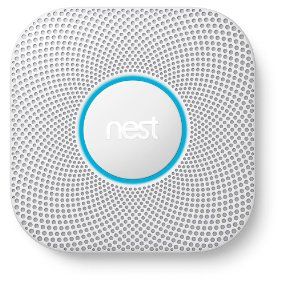 The smoke and CO (carbon monoxide) alarm that thinks, speaks, and alerts your phone.
There's never been a smoke and carbon monoxide alarm quite like this. It has an industrial-grade smoke sensor, tests itself automatically, and lasts up to a decade. It's also the first home alarm you can hush from your phone without any extra hardware required.
Nest Cam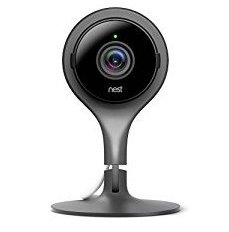 Look after your home. Know if something happens. This is what a security camera should be!
Nest Cam stands watch 24/7. It can send an alert when it detects activity. It's quick and easy to install. And it lets you talk back through the Nest app. Available in Indoor and Outdoor models.
Nest Hello Doorbell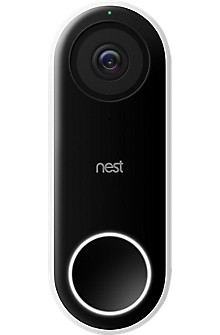 Know who's knocking with Nest Hello - The doorbell you've been waiting for!
Nest Hello lets you know who's there, so you never miss a thing. It replaces your existing wired doorbell and delivers HD video and bright, crisp images, even at night. It's designed to show you everything at your doorstep — people head to toe or packages on the ground
As a licensed Heating & Air Conditioning Contractor, Hannabery HVAC provides high quality, professional thermostat installations, thermostat replacements, thermostat repairs, and related services for the greater Lehigh Valley; including Allentown, Bethlehem, Easton, and all of Eastern Pennsylvania.
Have your Nest Thermostat professionally installed today!
Call or click below
to receive your...
[Must be in our service area]