Our Comfort Specialists Are Here To Help!
We've been keeping Barbie cool
Since 1972!
Call Us Today!
Whether you are looking to replace an old heating or air conditioning system at an affordable price or for the latest in cutting-edge technology for your home or office, Hannabery HVAC has the resources to meet your needs. We offer a quick turn-around, effective and efficient design solutions, professional service, and all at competitive rates.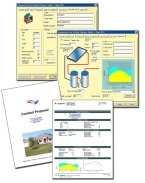 Feel free to speak with one of our Comfort Specialists. They will be happy to answer any of your questions. Using computer-aided, heat load calculations, our Comfort Specialists can determine your exact heating, cooling, or ventilation needs. And they can help you choose the perfect heating and air conditioning system for your home or office.
Free In-Home Estimates!
Just fill-out our Online Estimate Request Form and a Comfort Specialist will contact you ASAP.
For Service or Repair Requests, please use the button below...
For customers in our service area only!
Besides offering Free Estimates, our Comfort Specialists will come out to your home or business to discuss all of your options; including types of systems, brand names, accessories, warranties, models and efficiencies.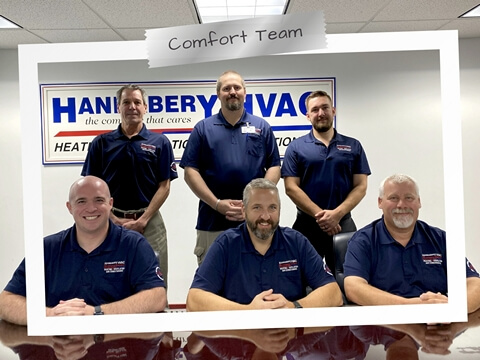 Pictured left to right from back row: Dan Neiswender, Erik Hunger, Braidy James, Joe Stauder, David James, Chris Stufflet
Our Comfort Specialists will also let you know about any Rebates, Special Offers, or Money-Saving Coupons that may be available to you! And FYI... We also offer HVAC Financing that's Quick, Safe and Simple!
We look forward to meeting you!
HVAC Sales & Installation...
Gas, Electric, Oil, Heat Pumps, Furnaces, Boilers, Air Conditioning, In-floor Radiant Heating, Geothermal Heat Pumps, Groundsource Heat Pumps, Water Heaters, Snow and Ice Melt Systems, Ductless Mini-Split Systems, Custom Ductwork, Humidifiers, Dehumidifiers, Air Cleaners, UV-C Air Treatment Systems, Air Duct Cleaning, Thermostats, Maintenance Plans...
Serving the Lehigh Valley and all of Eastern, PA

We use Angie's List to assess whether we're doing a good job keeping valued customers like you happy. Please visit AngiesList.com in order to grade our quality of work and customer service.
How Comfortable Do You Want To Be?
[Must be in our service area]