Now With 3 Locations To Serve You Better!
How Comfortable Do You Want To Be?
Call Us Today!
Quakertown | Allentown | Clarks Summit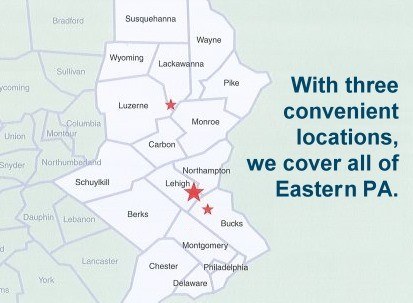 We work in, but are not limited to the following areas:
IN PENNSYLVANIA:
The entire Lehigh Valley... Allentown, Bethlehem, Easton, and surrounding areas
Berks County
Bucks County
Carbon County
Chester County
Delaware County
Lackawanna County
Lehigh County
Luzerne County
Monroe County
Montgomery County
Northampton County
Pike County
Schuylkill County
Wayne County
Wyoming County
IN NEW JERSEY:
Warren County
Hunterdon County
Mercer County
We do HVAC work in the areas listed above, but that does not necessarily mean we cover the entire areas listed.
Note: We do not work in the city of Philadelphia.
How Comfortable Do You Want To Be?
Call us at 1-800-544-4328
[Must be in our service area]