Central Humidifiers...
From Desert to Rainforest...
For Health
Comfort
Protection
And Savings
Call Us Today!
Why Is Proper Humidity Important?
Dry air can cause nose, throat, and other physical aggravations. It can increase your likelihood of getting colds, flu and other upper respiratory ailments. Viruses that cause colds and flu thrive in low humidity.
Dry air caused by low humidity can make you feel too cold at normal temperatures leading you to turn up the thermostat. This in turn, leads to higher energy bills. Dry air also causes annoying static shocks, which can also ruin electronic devices in the home.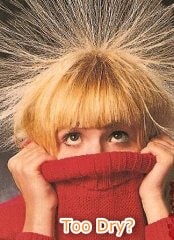 Heated air dries out and shrinks wood framing around doors and window frames. Gaps occur, permitting cold outside air infiltration, resulting in heat loss and higher heating costs. Heated, dry air causes separation of wood in floors, trim and furniture and can cause wall and ceiling cracks.
At the recommended indoor relative humidity (35-45%), you will feel warmer at lower temperatures (just as you feel hotter in humid weather).
---
You can actually lower your thermostat and still feel just as comfortable!
---
Only The Best Name Brands...
Don't suffer another winter in a dry home. Whole-home Humidifier installations by Hannabery HVAC alleviate problems associated with dryness. Choose from the two models below to fit any and all applications.
Aprilaire Model 700 Humidifier

For large homes, fits in tight spaces
The Model 700 Power Humidifier features truly automatic control, so there's no need to ever manually adjust it. It is our highest capacity, top of the line unit; designed with ease of service in mind, and it's virtually maintenance-free!
Aprilaire Model 400 Humidifier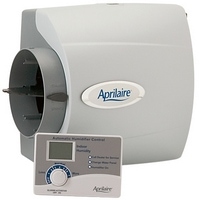 The Model 400 Bypass Humidifier incorporates a water circulating system for use where a floor drain is not available. It can properly humidify a tightly-constructed home up to 4,000 square feet. And it's a good choice for gas or oil furnaces.
Every one of our Humidifier Installations includes a shut-off valve for the water hook-up, humidistat control, installation and operating instructions, care and maintenance guidelines, along with a complete "SHOW & TELL" of the new system.
For Best Performance - Change Water Panels Annually!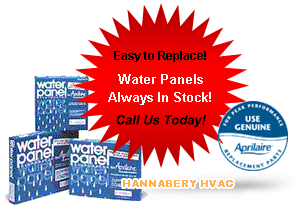 As a licensed Heating & Air Conditioning Contractor, Hannabery HVAC provides high quality, professional central humidifier installations, central humidifier replacements, central humidifier repairs, central humidifier maintenance, and related services for the greater Lehigh Valley; including Allentown, Bethlehem, Easton, and all of Eastern Pennsylvania.
Have your Central Humidifier professionally installed today!
Call or click below
to receive your...
[Must be in our service area]