Aprilaire Model 400 Bypass Humidifier
---
For Health, Comfort, Protection, & Savings!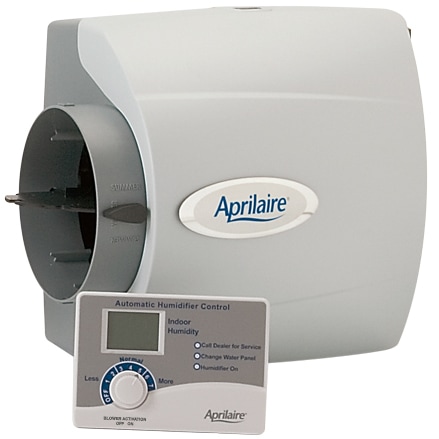 ---
The perfect choice for homes with septic systems, locations where a floor drain is not available, or for homeowners interested in water conservation!
---
The Aprilaire Model 400 humidifier features drain-free operation, eliminating standing water. Includes a built-in bypass damper, conveniently labeled for Summer and Winter settings, allowing you to set it for the entire season with no guesswork involved!
About The Model 400...
The Aprilaire Model 400 bypass humidifier is a high-capacity humidifier (.70 gallons evaporated per hour) incorporating a water circulating system for use where drain facilities are not accessible or available.
The Aprilaire Model 400 completely eliminates standing water and provides comfortable humidified air throughout your home. Gravity pulls water down while the wicking action of the water panel draws it back to the top, using 100% of the water delivered to the unit.
Note: Uses new evaporative technology to minimize water use. Drain not required!
Dimensions: 14" W x 15-7/8" H x 10-3/8" D
Plenum Opening: 6" round diameter
Electrical: 24V-60Hz-0.5 AMP
The Aprilaire Model 400 Humidifier is a whole-home solution that helps you achieve total comfort through humidity control. When you use the Aprilaire Model 400 Humidifier, you eliminate the unhealthy and damaging effects of overly dry air on your family and home.
As a licensed Heating & Air Conditioning Contractor, Hannabery HVAC provides high quality, professional central humidifier installations, central humidifier replacements, central humidifier repairs, central humidifier maintenance, and related services for the greater Lehigh Valley; including Allentown, Bethlehem, Easton, and all of Eastern Pennsylvania.
Have your Aprilaire Humidifier professionally installed today!
Call us at 1-800-544-4328
or click below to receive your...
[Must be in our service area]