High Efficiency Heat Pumps
For Comfort & Savings!
How Sweet is That?
Call Us Today!
Heat Pump Installations & Replacements...
Only The Best Name Brands
Unlike conventional air conditioning systems, a split system heat pump keeps homes comfortable all year long! In summer, it draws the heat out of your home to cool it. In the winter, it draws available heat from the outside air into your home to warm it. Outside air always has heat in it - even at very low outdoor temperatures.
---
Heat pumps offer the most ENERGY-EFFICIENT way to provide heating and cooling - end of story!
---
And almost all heat pumps include a supplemental electric-resistance heater, but could also be gas or oil, that automatically heats the air even more, as needed. A heat pump combined with a gas or oil furnace, also known as a Hybrid System, is one of the best systems you can have for efficiency and comfort!
Trane Heat Pump Systems...
---
For Rugged Durability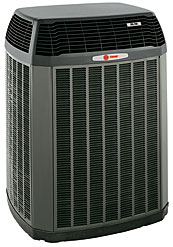 Every Trane Heat Pump is packed with high-quality components. Each helps ensure that time after time, your unit will provide total comfort your family can rely on.
Trane Offers:
Climatuff Compressors®,
Spine Fin™ Outdoor Coils
Sound Insulated Compressors
DuraTuff™ Non-Corrosive Basepans
Rheem Heat Pump Systems...
---
For The Toughest Scroll Compressors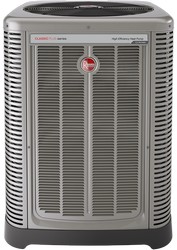 With a Rheem Heat Pump, you will enjoy long-lasting comfort and peace of mind from equipment that is built to provide your home or business with year-after-year of worry-free performance!
Rheem Offers:

The Latest Technology
Dependable Performance
Excellent Serviceability
Easy-Access Service Panel



York Heat Pump Systems...
---
For Compact, Space-Saving Design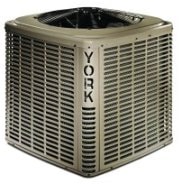 Take Comfort, Year in and Year out with a York Heat Pump. Proven Design for Efficiency, Performance, Comfort, and Reliability!
York Offers:

Super-Efficient MicroChannel Coil
Raised Fan Coil Guard
Exceptionally Quiet
Attractive Appearance



Goodman Heat Pump Systems...
---
For Energy-Efficient Home Comfort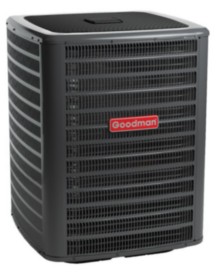 All Goodman heat pumps are loaded with features designed to provide outstanding, energy-efficient performance for years to come!
Goodman Offers:

Louvered coil guards
Factory-installed filter driers & high-capacity muffler
Contactors with lugs
Energy Star Rated & AHRI Certified-ETL Listed



All of our Heat Pumps use Earth-Friendly R-410A refrigerant!

As a licensed Heat Pump Contractor, Hannabery HVAC provides high quality, professional heat pump installations, heat pump replacements, heat pump repairs, heat pump maintenance, and related services for the greater Lehigh Valley; including Allentown, Bethlehem, Easton, and all of Eastern Pennsylvania.
Have your new Heat Pump professionally installed today!
Call or click below
to receive your...
[Must be in our service area]