Aprilaire Model 700 Power Humidifier
---
For Health, Comfort, Protection, & Savings!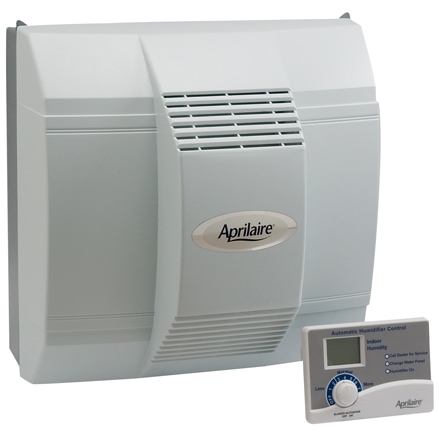 ---
The Aprilaire Model 700 Power Humidifier is our top of the line unit. For large homes and if fits in tight spaces!
---
This non-bypass, fan driven, computer controlled unit is designed with ease of service in mind. The Model 700 incorporates a self-flushing action. This action flushes down the drain many of the mineral deposits left on the water panel. This also minimizes the amount of maintenance required!
Model 700 Features...
The Aprilaire Model 700 Whole-House Power Humidifier features truly automatic control, so there's never a need to manually control the humidifier, though it can be installed in manual mode, if desired.
Utilizes an outdoor temperature sensor for monitoring even the slightest changes in outdoor temperature
Delivers up to 50% more moisture in comparison to competitive units
Has an evaporation capacity of 0.75 gallons per hour - among the highest capacity humidifiers sold!
Humidifies tightly-constructed homes up to 4,200 square feet in size
Note: The Model 700 Humidifier requires a condensate pump or floor drain.
Dimensions: 15-29/32" W x 15-31/32" H x 10-11/32" D
Plenum Opening: 14-7/8" W x 14-3/16" H
Electrical: 120V-60Hz - 0.8 AMP
The Aprilaire Model 700 Humidifier is a whole-home solution that helps you achieve total comfort through humidity control. When you use the Aprilaire Model 700 Humidifier, you eliminate the unhealthy and damaging effects of overly dry air on your family and home.
As a licensed Heating & Air Conditioning Contractor, Hannabery HVAC provides high quality, professional central humidifier installations, central humidifier replacements, central humidifier repairs, central humidifier maintenance, and related services for the greater Lehigh Valley; including Allentown, Bethlehem, Easton, and all of Eastern Pennsylvania.
Have your Aprilaire Humidifier professionally installed today!
Call us at 1-800-544-4328
or click below to receive your...
[Must be in our service area]