Gino Nicolai Hydronic Radiant Simulator Training Center Opens
---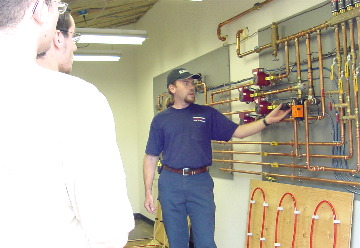 Release Date: 3/14/2005
(SCHNECKSVILLE, PA) - The Independent Quality Alliance (IQA) in partnership with Lehigh Carbon Community College opens the Gino Nicolai Hydronic Radiant Simulator Training Center. The only radiant simulator of its kind on the entire East Coast will provide classroom and hands-on training in hydronic radiant heating applications. The new facility includes nearly 3,000 square feet of classroom and hands-on training space at Lehigh Carbon Community College.
This highly specialized training center, dedicated to the memory of one of the IQA founding members and president of Hannabery HVAC, Gino Nicolai, will feature training in radiant heating systems, controls, piping, layout and design. The new training center showcases efficient, state-of-the-art technologies. Visitors will witness a working closed-loop radiant floor system, as well as different types of HVAC applications and products.
We have made a significant step in providing specialized training for plumbing, heating, and air-conditioning contractors and their technicians. The radiant heating system, which provides quiet, comfortable, and cost-efficient temperature control of the building should be extremely encouraging to those who have the opportunity to attend an upcoming training seminar.
On Wednesday, April 6th, please join us for the Grand Opening of the Radiant Simulator and a full day Hydronics seminar that takes the mystery out of hot water heating. Dan Holohan of Dan Holohan Associates, Inc. brings his nationally renowned presentation to the Lehigh Valley. If you've never seen Dan Holohan's treatment of Classic Hydronics, this is your chance. 8:30 am – 4:00 pm. Lunch will be served, along with prizes and giveaways. Seating is limited, so register soon.
| | |
| --- | --- |
| | |
| IQA Radiant Simulator | Lift-up floor panels |
| | |
| Installing insulation under floor | Solderless copper connections |
The radiant training system was installed primarily by Hannabery HVAC service technicians and Installation mechanics. Pictured above are assorted photos of the installation process.
How Comfortable Do You Want To Be?
[Must be in our service area]