Honeywell Wi-Fi Enabled Thermostat
---
Comfort Control Anytime, Anywhere!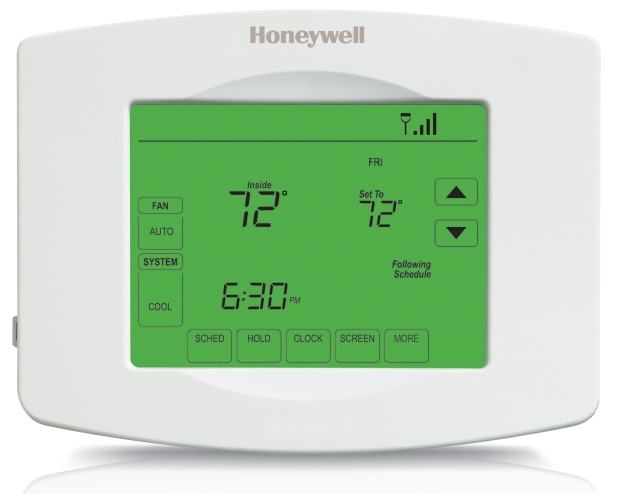 ---
Remotely control your thermostat and manage energy costs through a smartphone, tablet or computer - with ease!
---
Maximize Comfort with the Power & Ease of Wi-Fi...
You want comfort, convenience and connectivity. With the Wi-Fi VisionPRO, you can have all three. Using your existing Wi-Fi network plus Honeywell's free Total Connect Comfort Service, the Wi-Fi VisionPRO allows you to remotely monitor and control your home's temperature and system settings from anywhere at anytime; whether in bed, at the office, or on vacation.
Wi-Fi Features:

Free mobile app for Android or iOS.
Wi-Fi enabled for remote access from anywhere.
Schedule remotely via the web
View and set the temperature
View local weather from your app.
Manage multiple thermostats if the system is zoned
Manage multiple thermostats at various locations.
Receive High/Low temperature alerts via email, phone or web.
Manage all settings: Heat, Cool, Off, Auto, Fan, EM Heat
Get automatic upgrades as new features are available
---
Get Temperature Alerts via Email or Free App - Great for Vacationing!
---
Turn your Smartphone into a Remote Control
Just think of the benefits...
You have a child out sick from school staying home in bed, but you have to go to work. You get to your office and realize your thermostat is programmed to turn the heat down to save energy. With a few taps on your smartphone you can quickly override the program schedule and crank the heat back up.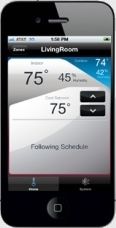 Imagine you're upstairs in bed with a sore back, and it's getting a little to warm, but your thermostat is down on the first floor. Well now with a smartphone, tablet or laptop, no need to even get out of bed to adjust the thermostat.
And for the ultimate in peace-of-mind, now when you go on a Winter vacation, you don't have to worry about the heat going out and coming home to burst pipes and water damage. You will be sent an alert warning you in plenty of time that your house is too cold, indicating something may be wrong with your heating system.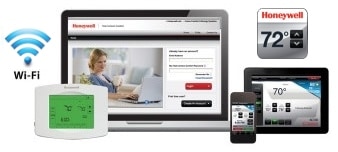 All you need is a wireless router in your house with internet access and you can remotely control this thermostat via the free smart phone app and free online application.
The Wi-Fi VisionPRO...
Features & Benefits:
Large, Clear Backlit Digital Display...

Easy to read in various lighting conditions.

Menu Driven Programming...

Guides you through the scheduling process, showing only necessary information and choices on each screen.

Adaptive Intelligent Recovery...

Ensures programmed temperature is reached by programmed time.

Change/Check Reminders...

Lets you know when to service or replace Filters, Batteries, UV lamp, Humidifier pad, etc.

Real-Time Clock...

Keeps time during power failure; automatically updates for daylight savings.

Armchair Programming...

Allows you to remove thermostat from wall to easily program it for your unique schedule.

Multiple HOLD Options...

Override program schedules as desired, with Temporary and Vacation settings.

Optional Remote Temperature Sensing...

Can use multiple sensors for indoor and outdoor settngs.

Energy Savings...

When used properly, can save up to 33% on annual heating and cooling costs!
Backed by an impressive 5-year Manufacturers warranty!
Applications: 24 volts, works with all conventional systems (Gas, Electric, Oil, and Heat Pumps with aux. backup heating)

The #1 Choice of Homeowners
As a licensed Heating & Air Conditioning Contractor, Hannabery HVAC provides high quality, professional wi-fi thermostat installations, wi-fi thermostat replacements, wi-fi thermostat repairs, and related services for the greater Lehigh Valley; including Allentown, Bethlehem, Easton, and all of Eastern Pennsylvania.
Have your Wi-Fi Thermostat professionally installed today!
Call us at 1-800-544-4328
or click below to receive your...
[Must be in our service area]