Honeywell Touchscreen Programmable Thermostat
---
The World's First "Effortless" Thermostat!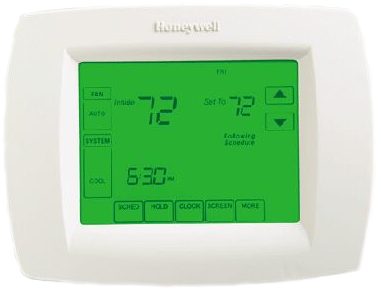 ---
The VisionPRO guides you through the programming process with a large, user-friendly touchscreen display!
---
Simple, Menu-Driven Programming...
The VisionPRO features a 10 sq. in. large, clear touchscreen display with an easy-to-read current temperature, set temperature and current time. Backlighting makes the display even more readable in any lighting condition. Its real-time clock keeps time during a power failure and will automatically update for daylight savings.
VisionPRO can be detached from the wall during programming for increased ease of use, and features various hold options that allow users to modify their programmed climate schedule as needed.
---
Also Available as a Wi-Fi Thermostat for Remote Access and Other Great Features!
---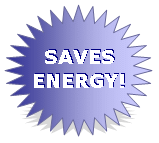 VisionPRO guides homeowners through the programming process with a user-friendly touchscreen, reducing the need for an owner's manual. It also provides precise temperature control, +/- 1 degree Fahrenheit.
VisionPRO offers completely flexible and configurable schedule programming. Homeowners can set the thermostat from non-programmable up to a separate program for each day or any combination of days... weekends versus weekday, for example.
The VisionPRO...
Features & Benefits:
Change/Check Reminders...

Lets you know when to service or replace Filters, Batteries, UV lamp, Humidifier pad, etc.

Real-Time Clock...

Keeps time for up to Ten Years during a power failure. Automatically updates daylight savings time, and adjusts for leap year!

Weekday/Weekend Programming...

Use a 5-1-1 (weekdays, Saturday, Sunday) or 5-2 (weekdays, weekend) programmable thermostat, whichever best fits your lifestyle.

Multiple HOLD Options...

Override program schedules as desired, with Temporary and Vacation settings.

Large, Clear Backlit Digital Display...

Easy to read in various lighting conditions.

Optional Remote Temperature Sensing...

Can use multiple sensors for indoor and outdoor settngs.

Energy Savings...

When used properly, can save up to 33% on annual heating and cooling costs!
Backed by an impressive 5-year Manufacturers warranty!
Applications: 24 volts, works with all conventional systems (Gas, Electric, Oil, and Heat Pumps with aux. backup heating)

The #1 Choice of Homeowners
As a licensed Heating & Air Conditioning Contractor, Hannabery HVAC provides high quality, professional thermostat installations, thermostat replacements, thermostat repairs, and related services for the greater Lehigh Valley; including Allentown, Bethlehem, Easton, and all of Eastern Pennsylvania.
Have your Honeywell Thermostat professionally installed today!
Call us at 1-800-544-4328
or click below to receive your...
[Must be in our service area]