Hannabery HVAC Earns Esteemed 2020 Angie's List Super Service Award
---

Award reflects company's consistently high level of customer service!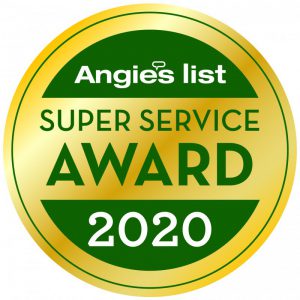 Release Date: 4/16/2021
Hannabery HVAC is proud to announce that we have earned the home service industry's coveted Angie's List Super Service Award (SSA). Only a fraction of the Heating and Air Conditioning companies in Eastern Pennsylvania were able to do it. This now makes it seven years in a row and our 10th Super Service Award. This award honors service professionals who have maintained exceptional service ratings and reviews on Angie's List in 2020.
The past year has been quite a challenge; from remote working and video-conferencing, to wearing masks, gloves and sanitizing, all while maintaining our standards for supporting and helping our clients. We've learned a lot from working in the HVAC field during a pandemic, and we're so pleased that our clients and Angie's List have acknowledged our efforts.
Angie's List Founder Angie Hicks said, "Despite the enormous challenges facing our service pros throughout 2020, our Angie's List Super Service Award winners continued to provide exceptional customer service. These outstanding businesses have helped homeowners not only maintain their homes, but also evolve them into safe and comfortable spaces that can handle all the mess of life, work, school and entertainment under one roof. Our homeowners' consistent positive reviews make it clear: these are the best pros in our network."
We have worked with many clients who found us on Angie's List and liked our reviews. Many of them, in turn, have left their own reviews, and the cycle of happy clients continues! We're proud to have earned this Super Service Award and will work hard to continue to deserve it.
Hannabery HVAC has been providing sales, service, installation, and maintenance of heating and air conditioning equipment to Eastern Pennsylvania homeowners and businesses since 1972. Specialties include indoor air quality and energy-saving products, geo-thermal heat pumps, custom ductwork, professional air duct cleaning and whole-home automatic generator installations. For more information about Hannabery HVAC, call them at 610-366-9400 or visit them online at www.hannabery.com

We use Angie's List to assess whether we're doing a good job keeping valued customers like you happy. Please visit AngiesList.com/Review/122763 in order to grade our quality of work and customer service.
How Comfortable Do You Want To Be?
[Must be in our service area]