System 2000 Integrated Heat & Hot Water System...
---

The heating system homeowners feel more comfortable with!
Energy Kinetics System 2000:
With the Energy Kinetics System 2000, homeowners enjoy whisper quiet operation, economical heat, a virtually endless supply of hot water, and lower energy costs throughout the year. System 2000 typically saves 30% or more compared to new conventional boilers. And it doesn't even need an expensive chimney, it can be wall-vented!
With System 2000's unique combustion chamber, combined with a 10 foot long flue passage, flue gases leave the system clean and relatively cool. This allows them to be vented directly through-the-wall.
System 2000 Features:
Extremely quiet
Zone control for maximum comfort and savings
Delivers virtually unlimited hot water
Unibody steel construction
No gaskets or push nipples to cause leaks
Doesn't need a chimney, can be wall-vented.
Uses 100% outside air for combustion
System 2000 Facts: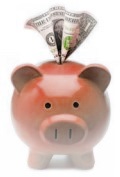 FACT: System 2000 on average, cuts heat and hot water costs by approximately 39%.
FACT: System 2000 provides virtually unlimited hot water whenever you want it.
FACT: System 2000 typically saves 30% or more compared to new conventional boilers.
FACT: System 2000 is one of the most efficient oil systems available.
The Digital Energy Manager: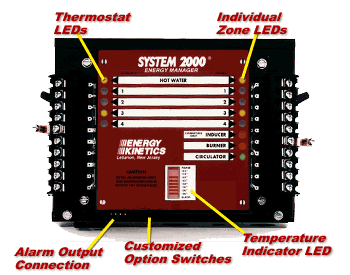 The Digital Energy Manager allows System 2000 to sit cold until heat is needed. Upon heating needs, it alerts the system, and in less than 90 seconds, the energy converter is distributing full energy output where required.
When heat and hot water needs are met, the Manager pumps residual heat to either living areas or to the domestic hot water storage tank. This virtually eliminates jacket and standby losses; increasing efficiency!
State-of-the-art LED indicators on the manager display boiler temperature and the areas of the home requiring heat, as well as the status of the burner, circulator or draft inducer (for chimneyless applications).
---
Perfect for Replacing Aging Heating Systems...
---
Energy Kinetics also makes space-saving, wall-mounted and stackable hot water and heating systems, which are perfect for town homes, condos, rental properties and renovations. And they are also available for Gas and Propane.
Huge Performance, Small Package
| | |
| --- | --- |
| | |
| Stacked Oil System | Stacked Gas System |
Limited Lifetime Warranty on Heat Exchanger and Energy Manager Control
---
All Boiler Installations Include Free Removal of Old Equipment!
---
As a licensed heating & air conditioning contractor, Hannabery HVAC provides high quality, professional oil boiler installations, oil boiler replacements, oil boiler repairs, oil boiler maintenance, and related services for the greater Lehigh Valley; including Allentown, Bethlehem, Easton, and all of Eastern Pennsylvania.
Have your new System 2000 professionally installed today!
Call us at 1-800-544-4328
or click below to receive your...
[Must be in our service area]