Peerless PUREFIRE® - Direct Vent, High-Efficiency Boiler...
---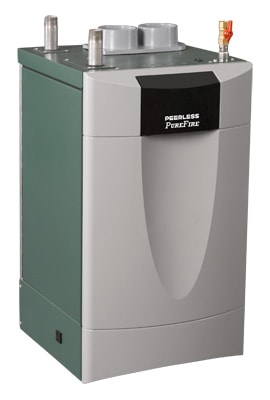 Peerless
Purefire

® Boiler:

The Peerless Purefire® gas-fired condensing boiler is a high-efficiency boiler, and is available for either natural or LP gas. The direct vent, sealed combustion boiler has an ultra-high 97.3% efficiency and is ENERGY STAR approved. It's available in six sizes, and includes a unique condensate system with built-in neutralizer component and float switch protection - a top feature of the boiler!
Requires No Chimney, Vents Directly Out a Side Wall!
Meets all Federal Tax Credit Requirements!
Environmentally Friendly - LoNOx Operation
Sleek, Modern Design with Easy Access to Controls
Other great features include a high grade stainless steel burner and heat exchanger, and a 120 volt convenience outlet. The fully modulating burner assures dependable operation and maximum boiler efficiency. Zero clearance to combustibles and easy access to controls allows it to be installed in tight spaces, even wall-mounted.
Peerless Series MI™ Natural Draft, Hot Water Boiler...
---

Peerless Series MI™ Boiler:
The Series MI™ residential, cast iron, gas-fired hot water boiler is fully packaged and designed for natural draft use with a conventional chimney. The Series MI™ boiler is available with either standing pilot or intermittent ignition, and is available as natural or LP gas. The integral draft diverter provides a low-profile design, allowing the boiler to be installed in areas with low clearance.
Standard Honeywell controls are easily accessible, making the Series MI™ boiler simple to install and service. Standard equipment includes a Taco circulator, a flame rollout safety shutoff switch and a vent safety shutoff switch.
---
All Boiler Installations Include Free Removal of Old Equipment!
---
As a licensed heating & air conditioning contractor, Hannabery HVAC provides high quality, professional gas boiler installations, gas boiler replacements, gas boiler repairs, gas boiler maintenance, and related services for the greater Lehigh Valley; including Allentown, Bethlehem, Easton, and all of Eastern Pennsylvania.
Have your new Peerless Boiler professionally installed today!
Call or click below
to receive your...
[Must be in our service area]