Peerless Series WBV/WV™ Natural Draft Oil-Fired Boiler...
---

A deluxe, insulated enameled steel jacket reduces heat loss. The cast iron sections are factory tested to assure a water tight seal.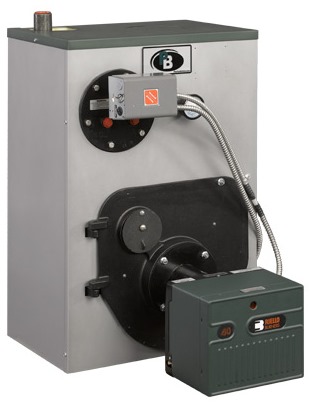 Peerless WBV/WV™ Boiler:
The Peerless Series WBV/WV™ residential, oil-fired hot water boiler is designed for natural draft (chimney) venting. The fully-packaged boiler is available in 3 sizes with 8 firing rates. Standard features include a full plate swing-out door and convertible rear or top flue outlet (for 3 and 4 section boilers only), Honeywell operating controls, and Taco circulators. Optional Tankless Coils are available for Domestic Hot Water needs.
Peerless® Series WBV/WV™ boilers are available with your choice of Beckett, Carlin or Riello High Efficiency, Flame Retention Burners. These burners feature a high voltage, solid state igniter that improves ignition, and a state-of-the-art motor that results in a lower amp draw and cooler operation.
Burners also include a solid state control with interrupted ignition, limited recycle and reset, a pre-purge and other features that assure dependable service. These advanced controls, along with a solenoid oil valve results in cleaner and quieter burner operation.
New! Optional Sleek, Two-Piece Molded Boiler Cover with Removable Lens for Viewing the Control
Peerless residential cast iron boilers include a full one-year warranty and a lifetime warranty for the cast iron sections.
---
All Boiler Installations Include Free Removal of Old Equipment!
---
As a licensed heating & air conditioning contractor, Hannabery HVAC provides high quality, professional oil boiler installations, oil boiler replacements, oil boiler repairs, oil boiler maintenance, and related services for the greater Lehigh Valley; including Allentown, Bethlehem, Easton, and all of Eastern Pennsylvania.
Have your new Peerless Boiler professionally installed today!
Call us at 1-800-544-4328
or click below to receive your...
[Must be in our service area]