WM97+ Wall-Mounted High Efficiency Gas Boiler...
---

The wall-mount WM97+ Boiler and the optional AquaLogic Indirect Water Heater
Multi-color LCD display makes things simple!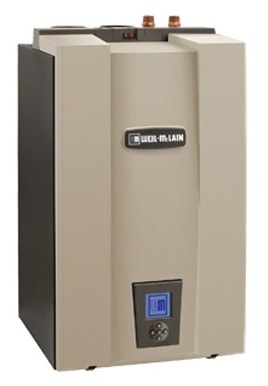 Weil-McLain WM97+ Boiler:
The small size of this boiler allows it to achieve an incredible AFUE of 97%. The unique condensing fire tube heat exchanger design plays a large part in achieving such a high efficiency.

A wide array of venting options and compatibility with natural gas or liquid propane means that almost anyone can enjoy the savings to be had by the Weil-McLain WM97+ Wall Mount Gas Boiler.
Standard Features Include:
Built-in low water cutoff, Built-in Circulator, and Built-in Expansion Tank, a 3-Zone Circulator Control with optional Domestic Hot Water Priority, Water Treatment Kit, Vent Termination Kit, and Propane Conversion kit, Inlet and Outlet Water Temperature Sensors, Direct Spark Ignition, Indirect Water Heater Connections...
Unique Features Include:
Venturi Mixing System with Air Silencer, Flue Gas Temperature Sensor, Outdoor Temperature Sensor, Outdoor Reset, Modulating Temperature Control, Alarm Control...
CGt High Efficiency Gas Boiler with Tankless Heater...
---

Direct Exhaust Venting - through a side wall or roof!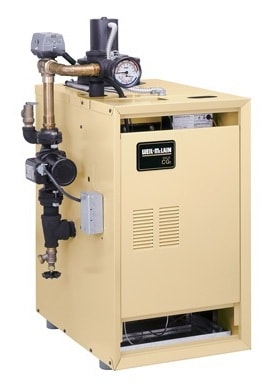 Weil-McLain CGt Boiler:
The CGt Gas-Fired Boiler from Weil-McLain offers a compact design with a built-in tankless heater that also provides domestic hot water. Comes standard with a 3-way valve for Domestic Priority during high demand situations.
Other features include:
High-grade stainless steel burners, integrated control module with intermittent electronic ignition system, and a Thermostatic mixing valve to help maintain a constant domestic hot water temperature.
Efficiency rated at 81% AFUE (Annual Fuel Utilization Efficiency). Boiler sections are made of durable cast iron for strength, efficiency, and long life, and are backed by a limited lifetime warranty.
---
All Boiler Installations Include Free Removal of Old Equipment!
---
As a licensed heating & air conditioning contractor, Hannabery HVAC provides high quality, professional gas boiler installations, gas boiler replacements, gas boiler repairs, gas boiler maintenance, and related services for the greater Lehigh Valley; including Allentown, Bethlehem, Easton, and all of Eastern Pennsylvania.
Have your new Weil-McLain Boiler professionally installed today!
Call or click below
to receive your...
[Must be in our service area]