Weil-McLain WGO, WTGO Oil-Fired Boilers...
---

Weil-McLain® oil-fired boilers are among the most reliable and energy-efficient residential oil boilers on the market!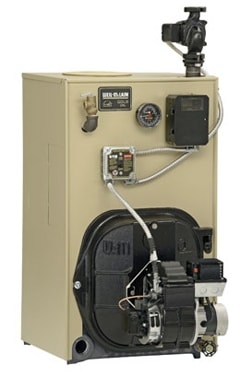 Weil-McLain WGO, WTGO Boiler:
Weil-McLain's new GOLD Oil boiler line provides you with innovative features to help make installation and servicing easier than ever.
Designed for superior heating comfort and long-term efficiency, they feature precision engineering, durable components and proven performance. Three different oil-fired boiler series are available in a variety of models.
Key Features:
Quick open top and swing-away burner door with full chamber access increases visibility for inspection and servicing
Includes factory-wired circulator, service switch and Weil-McLain exclusive captured elastomer seals for added reliability
Recessed target wall design protects unit from flue brushes
Two flue outlets- rear and top - for complete venting flexibility
Durable Cast Iron
Weil-McLain WGO, WTGO oil-fired boilers are available with or without a high capacity/high efficiency tankless water heater.
Weil-McLain Model UO Ultra Oil-Fired Boiler...
---

Weil McLain's new Ultra Oil Boilers are premium, smart, durable oil boilers with many state-of-the-art features!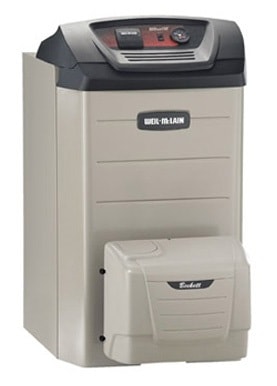 Weil-McLain UO Ultra Boiler:
The Weil-McLain Model UO Ultra Oil Boiler features a full access, reversible swingaway door, which exposes virtually the entire combustion area and all flue-ways for simplified inspection, cleaning, and maintenance. This design also incorporates a mounting bracket that can be installed on either the left or right side of the front section for installation in small, confined spaces and corners.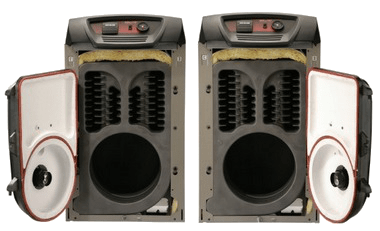 Key Features:
Dedicated water-only oil boiler
Flexible direct or chimney venting - no power assisted fan needed
Three-pass durable, cast iron heat exchanger with captured elastomer seals
Sleek, innovatively designed jacket with rear piping and wiring openings and concealed controls for an appliance-like appearance
Circulator included, plus it's pre-wired for an optional fully integrated control system
Weil-McLain Model UO Ultra Oil-Fired Boilers include: Optional Advanced Features Module that provides indoor/outdoor reset, Domestic Hot Water (DHW) priority, stage firing and more!
---
All Boiler Installations Include Free Removal of Old Equipment!
---
As a licensed heating & air conditioning contractor, Hannabery HVAC provides high quality, professional oil boiler installations, oil boiler replacements, oil boiler repairs, oil boiler maintenance, and related services for the greater Lehigh Valley; including Allentown, Bethlehem, Easton, and all of Eastern Pennsylvania.
Have your new Weil-McLain Boiler professionally installed today!
Call us at 1-800-544-4328
or click below to receive your...
[Must be in our service area]