HANNABERY HVAC Earns Esteemed 2007 Angie's List Super Service Award
---

Award reflects company's consistently high level of customer service!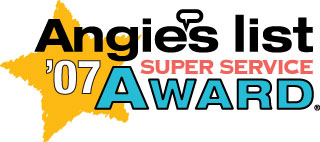 Release Date: 5/5/2008
(ALLENTOWN, PA) -- Hannabery HVAC - Heating, Ventilation, and Air Conditioning has been awarded the prestigious and difficult-to-attain 2007 Angie's List Super Service Award.
This exclusive recognition is awarded at the beginning of each year to companies who have achieved and maintained a superior service rating on Angie's List throughout the past year. Fewer than 5 percent of the companies on Angie's List meet the eligibility requirements to be considered for the award.
Our Super Service Award winners are the cream of the crop when it comes to customer service, said Angie Hicks, founder of Angie's List. To help our members easily find these exceptional service companies, we've added Super Service Award logos to each of the winning company names on AngiesList.com. Our members tell us they love that additional bit of information.
We really appreciate our customers taking the time to share their positive experience with us, said Dave Valek, Vice President of Hannabery HVAC. This was quite a surprise; we didn't even know we were listed on Angie's List, Valek said. And he continued... We take great pride in our commitment to customer satisfaction, and we truly believe that word-of-mouth referrals has been the key to our success.
Angie's List Super Service Award winners have maintained an A rating overall; have received a minimum number of reports; are NOT in the Angie's List Penalty Box, and do NOT have an unsatisfactory rating with the Better Business Bureau.
Hannabery HVAC has been providing sales, service, and installation of heating and air conditioning equipment to Eastern Pennsylvania homeowners and businesses for over 35 years. Specialties include indoor air quality and energy-saving products, geo-thermal heat pumps, custom ductwork, and professional air duct cleaning. For more information about Hannabery HVAC, call them at 610-366-9400 or visit them online at www.hannabery.com

We use Angie's List to assess whether we're doing a good job keeping valued customers like you happy. Please visit AngiesList.com/Review/122763 in order to grade our quality of work and customer service.
How Comfortable Do You Want To Be?
[Must be in our service area]