Aprilaire Model 600 Bypass Humidifier
---
For Health, Comfort, Protection, & Savings!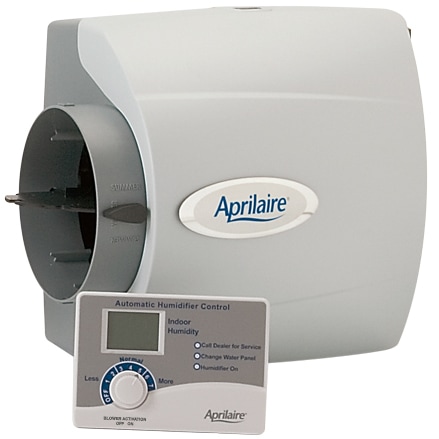 ---
The Aprilaire Model 600 Automatic Humidifier is the newest addition to the line and is virtually maintenance-free!
---
The Aprilaire Model 600 takes humidifier innovation to the next level and performs as good as it looks! Includes a built-in bypass damper, conveniently labeled for Summer and Winter settings, allowing you to set it for the entire season with no guesswork involved!
About The Model 600...
The Aprilaire Model 600 moves air through the bypass principle, where air is forced from the warm air supply to the cold air return due to positive air pressure in the supply and negative air pressure in the return. The humidified air mixes with the return air from the home.
The Aprilaire Model 600 is an excellent choice for homes with electric heat pumps. Due to lower plenum temperatures the unit should be connected to your hot water supply line. This will produce an evaporative capacity of 0.70 gallons per hour. Perfect for loosely insulated houses around 1,000 sq ft. and tight houses up to 4,000 sq ft.
Note: The Model 600 Humidifier requires a condensate pump or floor drain.
Dimensions: 14" W x 15-1/8" H x 10-3/8" D
Plenum Opening: 9-3/4" W x 12-1/2" H
Electrical: 24V-60Hz-0.5 AMP
The Aprilaire Model 600 Humidifier is a whole-home solution that helps you achieve total comfort through humidity control. When you use the Aprilaire Model 600 Humidifier, you eliminate the unhealthy and damaging effects of overly dry air on your family and home.
As a licensed Heating & Air Conditioning Contractor, Hannabery HVAC provides high quality, professional central humidifier installations, central humidifier replacements, central humidifier repairs, central humidifier maintenance, and related services for the greater Lehigh Valley; including Allentown, Bethlehem, Easton, and all of Eastern Pennsylvania.
Have your Aprilaire Humidifier professionally installed today!
Call us at 1-800-544-4328
or click below to receive your...
[Must be in our service area]