Another Quality Job by Hannabery HVAC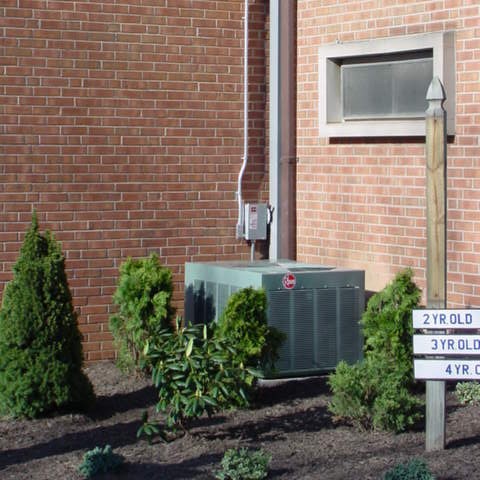 How Comfortable Do You Want To Be?
Church of the Good Shepherd Easton, PA:
Job Introduction - This Church project called for the cooling of six different areas; the sanctuary, nursery, kindergarten, grade school, lounge, and Pastors office, totaling almost 40 tons of cooling (480,000 btu's). The equipment varied from packaged roof-tops, to central split systems, to ductless suspended indoor units. All of which were controlled by standard 24 volt cooling thermostats.
Job Details - The Sanctuary received three 5 ton packaged units and a 5 ton split system, fully ducted. The duct work was custom fabricated sheet metal and internally lined. It included acoustical turning vanes to minimize air noise and increase air velocity. The system was designed to minimize air noise for each of the four sanctuary systems. Smoke Detectors were mounted in the return ducts for each of the four systems and wired to shut the system down in the event of smoke due to fire. All exposed ducting for the packaged equipment was caulked, sealed and painted with aluminum duct coating upon completion.
Continued - The nursery, kindergarten, grade school, and lounge received Rheem High Efficiency condensing units mounted on the roof and Multiaqua ductless fan/coil units suspended from the ceiling in each of the rooms. The Pastors office area received a completely ducted, Rheem Split system High Efficiency Air Conditioning system. All air handlers were furnished with 2 (primary and secondary) drain lines.
Equipment Details - 3 Rheem RLKAA060CK packaged roof-tops, 1 Rheem RAMB060JAZ 12 S.E.E.R. condenser, 1 Rheem RAMB042JAZ 12 S.E.E.R. condenser, 1 Rheem RAMB036JAZ 12 S.E.E.R. condenser, 1 Rheem RAKA036JAZ 10 S.E.E.R. condenser, 4 Rheem RAMB030JAZ 12 S.E.E.R. condensers, 2 Rheem RBHA Rheem Air Handlers, and 6 Multiaqua ductless fan/coil units.
Customer Comments - On behalf of the members of Good Shepherd I want to thank Hannabery HVAC, Gino Nicolai, and your workers for the excellent work you did in designing and installing the air conditioning for our church building.
From start to finish, the time and attention you gave us was greatly appreciated. You and your workers were a joy to work with. You went out of your way to help us and keep us informed. We are grateful for the high quality of work you provided and more importantly, your professional care and sensitivity.
We can't say enough to compliment you and your workers. Please know that we will be honored to be used as a reference. We pray that the Lord God continue to work through you and bless all that you do.
The Rev. Bruce D. MacLaughlin, Pastor
About the Evangelical Lutheran Church of the Good Shepherd -
2115 Washington Boulevard
Easton, PA 18042
Office: 610-258-0081
If you would like to be profiled on our website, just let us know. Thank you!
Installations Done Right... The First Time!
How Comfortable Do You Want To Be?
[Must be in our service area]