Don't Throw Away Your Money This Summer!
---

Cooling Inspections Save Money...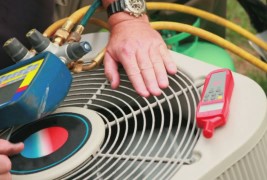 Release Date: 3/28/2003

Allentown, PA -- Warm temperatures are around the corner and so is the potential to throw away money. Consumers can't afford to ignore their air conditioning equipment because inefficient equipment and potentially costly home cooling problems could equal wasted expenses.
"Proper care of cooling equipment can keep your unit running efficiently, which saves money and helps avoid costly repairs," said Mike Smith, Service Manager of Hannabery HVAC. "Now is the perfect time to make sure your cooling system will keep you cool without wasting your money."
Consumers play a vital role in making sure their cooling systems operate at peak performance to maximize home comfort and money savings. It's important to realize that operating a dirty unit can cause unnecessary loss of efficiency and can damage the unit. A few minor steps are a small price to pay for the high efficiency, which means lower energy bills and improved total comfort.
A qualified service technician should handle major maintenance tasks, but homeowners can take a few simple steps to ensure their systems are running properly. One of the most effective steps consumers can take to help ensure they'll get the efficiency they paid for is to contact an experienced, reputable Air-Conditioning contractor.
During the course of a typical Air Conditioning Inspection, a Service Technician will check the system's refrigerant charge, clean the coils, blower wheel, and drain line, lubricate motors, and inspect all moving parts and electrical circuits.
Consumers may also:
Trim brush and shrubbery near outdoor units to prevent airflow obstruction.
Remove grass clippings, leaves and other debris from the outdoor coil.
Replace or clean the indoor unit's filter monthly or as-needed.
Hannabery HVAC has been providing sales, service, installation, and maintenance of heating and air conditioning equipment to Eastern Pennsylvania homeowners and businesses for over 35 years. Specialties include indoor air quality and energy-saving products, geo-thermal heat pumps, custom ductwork, professional air duct cleaning and whole-home automatic generator installations. For more information about Hannabery HVAC, call them at 610-366-9400 or visit them online at www.hannabery.com
How Comfortable Do You Want To Be?
[Must be in our service area]