Local Family To Be Profiled On Dateline NBC
---

Hannabery HVAC, York, THP Homes, And Others Help-Out For A Good Cause!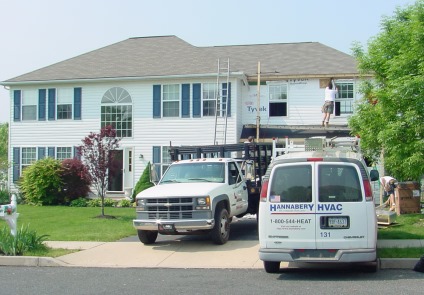 Release Date: 7/2004
For those of you who haven't heard the story, the Salem's went to Russia to adopt twins; a boy and girl, about a year old. The Salem's are about to go back to Russia to adopt two more sets of twins. As if the story isn't already amazing enough, it gets better. The two new sets of twins are the siblings of the original set of twins. All six children are from the same family.
The birth parents had given up the youngest set of twins to an orphanage because they were too poor to take care of them. The other two sets were eventually taken away from the family as well and put in separate orphanages. Upon finding this information out, it took the Salem's less than an hour to decide to go to Russia and try to adopt them as well and create one new complete family.
Making the decision to adopt came easy. Now comes the hard part. The adoptions are expected to cost about $35,000. Motorola, who employs Mr. Salem is paying most of the bill, about $32,000. And a fund set up at a credit union is accepting donations from the public to offset the rest.
THP Homes, which built the Salem's house 14 years ago, is donating much of the material and labor for the addition. Hannabery and York teamed up to help out as well. York provided a heat pump system free of charge. Hannabery HVAC provided both the labor and material, free of charge. Many other companies and individuals also donated.
Update To Story...
Great News! Just as I finished writing this story, the Salem's emailed us. All 6 kids are home and together again! Checkout the email:
We want to extend our appreciation and thanks to Hannabery HVAC and all of your staff who helped to prepare the rooms for our children, who recently came home from Russia - three sets of twins.
We wanted everyone involved to know that their rooms that you helped to provide heating and cooling for, will be the first safe and warm place that these children will have ever known.
We thank you for your generosity and helping to provide the services that helped unite our children with their forever family. God Bless you.
Warmly, Lisa and Hythem Salem and all 3 sets of twins!
This feel-good story has attracted attention from several local newspapers and newscasts including Dateline NBC, which recently spent more than 13 hours filming the Salem's. (Has not aired yet.)
How Comfortable Do You Want To Be?
[Must be in our service area]