Commonly Reported HVAC Problems:
Copyright © 1997 Hannabery HVAC. All rights reserved.

---
It's never the temperature I set my thermostat for: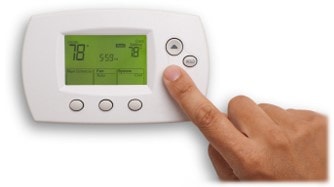 Thermostat Not Accurate...
This is usually due to a thermostat that isn't properly calibrated. This can be a nuisance call because some thermostats, even after being calibrated, lose their calibration again shortly afterwards. Brand new thermostats out of the box can often do this.
What is the answer? Digital thermostats. They never lose calibration and they are extremely accurate. Older mercury-styled or bi-metal thermostats are quickly being phased out. New digital thermostats are also very sophisticated; with programmable features capable of saving customers up to 30% in utility costs.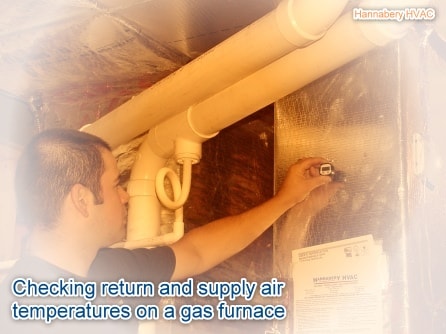 There are a few other things that could cause this problem besides the thermostat though.
Below is a list of possible causes. Items in red usually require a service call. Items in blue however can be addressed, some even fixed by the homeowner.
Red = Professional fix | Blue = Homeowner fix
Draft through hole in wall behind thermostat
Thermostat not level
Direct sun or another heat source affecting thermostat
Please keep in mind that the information found on our website is provided free of charge and Hannabery HVAC does not assume any liability resulting from the information we provide. We hope this information helps, but please note that these are just rough guidelines, and not all possible situations are covered. Your HVAC system should be inspected and repaired by a trained technician.
Commonly Reported HVAC Problems
How Comfortable Do You Want To Be?
Call us at 1-800-544-4328
[Must be in our service area]