Commonly Reported HVAC Problems:
Copyright © 1997 Hannabery HVAC. All rights reserved.

---
No Indoor Fan, Fan Not Running, Fan Not Blowing, No Airflow: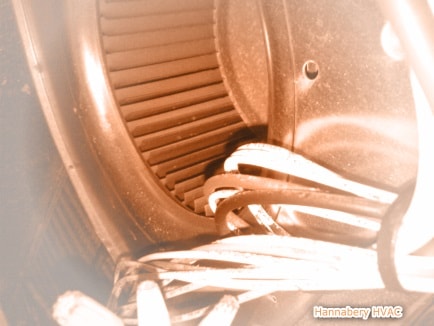 However you want to word it, if your indoor fan isn't working it could be several things. We will go over a few things to check before calling for service.
First make sure there is power to the indoor unit and that a switch or breaker isn't off. Some indoor units (Heat Pumps) have breakers right on the Air Handler itself. But also check the main breaker panel. Some units have a shutoff switch on the side of the unit or an Emergency Switch located on a wall.
Then make sure your air filter isn't blocked. Sometimes that is the only problem. Some customers don't even know they have an air filter and it has never been checked. Try setting the thermostat fan switch to the "on" position. Feel for air coming out of the vents.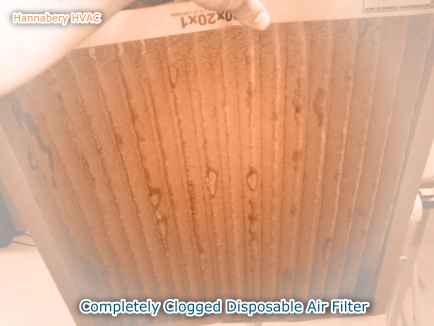 If it is in the air conditioning mode, check for ice around the evaporator coil and on the refrigerant lines at the indoor unit. If the coil froze, the fan could be working but the air wont go through the ice until it melts. If the fan isn't working, that can cause the coil to freeze. If the coil is frozen, shut off the air conditioning immediately. Then check-out our page - heat pump iced-up in summer. (Even if it's not a heat pump.)
Some equipment still use belt driven motors. Mostly "low-boy" oil furnaces, especially older models. Sometimes the belts wear out, crack, and eventually break. If you take a look at the blower section of your heating system it is quite easy to see if you have a belt driven blower motor. You will see a motor sitting on top or next to a larger blower wheel connected by a fan belt.
The blower wheel (attached to the fan motor) may also be clogged with dirt or debri, as shown below. Sometimes, even a dead animal; such as a squirrel have been found stuck in a blower wheel! Never attempt to work on the motor or blower wheel unless the power has been turned off to the unit.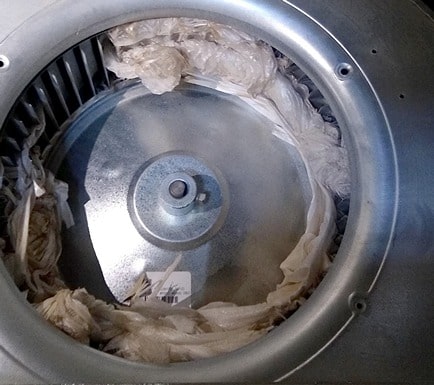 Most fans are energized by a fan relay. This is probably the most common cause. The contacts inside the relay go bad. They usually stick open, never sending the signal to the motor. This is much easier and less expensive to repair than a motor going bad.
A weak, faulty, or shorted capacitor can prevent the motor from running. And of course, the motor itself can always go bad. Sometimes the bearings seize. Or the motor just burns up or weakens.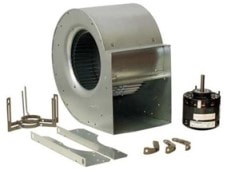 Below is a list of possible causes. Items in red usually require a service call. The bottom four causes in blue are commonly found problems and can be addressed, even fixed by the homeowner.
Red = Professional fix | Blue = Homeowner fix
Faulty relay or fan control
Faulty motor
Faulty fan belt
Bad wiring
Faulty thermostat
Frozen coil due to an air conditioning problem
Bad or weak motor capacitor
Breaker or switch off
Filter completely blocked
Blower wheel clogged with debri
Please keep in mind that the information found on our website is provided free of charge and Hannabery HVAC does not assume any liability resulting from the information we provide. We hope this information helps, but please note that these are just rough guidelines, and not all possible situations are covered. Your HVAC system should be inspected and repaired by a trained technician.
Commonly Reported HVAC Problems
How Comfortable Do You Want To Be?
Call us at 1-800-544-4328
[Must be in our service area]