Commonly Reported HVAC Problems:
Copyright © 1997 Hannabery HVAC. All rights reserved.

---
Outdoor unit won't come on, Outdoor unit not running: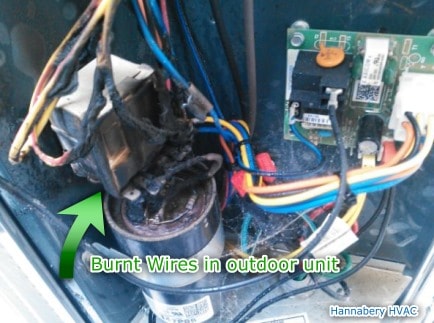 This is a very common problem, whether it's an air conditioner or a heat pump. And there are many things that can prevent the outdoor unit from starting, some of which can be quite serious.
Unfortunately, many times a service technician is dispatched only to find a simple problem that could have been addressed, even fixed by the homeowner.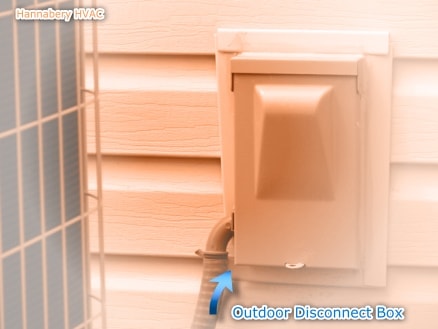 Below is a list of possible causes. Items in red usually require a service call. Items in blue however can be addressed, some even fixed by the homeowner.
Red = Professional fix | Blue = Homeowner fix
Faulty thermostat
Faulty contactor or capacitor
Faulty time-delay relay
Faulty thermostat cable or burnt wires
Unit off due to an open safety device (low pressure, low temp, high pressure, high temp...)
Faulty control module
Thermostat not set properly
Emergency or shut-off switch turned off
Blown fuse in panel box
Circuit breaker tripped or off
Outdoor disconnect off
Condensate pump unplugged and/or safety switch open
Outdoor reset button tripped
Unit "locked-out"
And before you place a Service Call...
---
Please keep in mind that the information found on our website is provided free of charge and Hannabery HVAC does not assume any liability resulting from the information we provide. We hope this information helps, but please note that these are just rough guidelines, and not all possible situations are covered. Your HVAC system should be inspected and repaired by a trained technician.
Commonly Reported HVAC Problems
How Comfortable Do You Want To Be?
Call us at 1-800-544-4328
[Must be in our service area]