Enjoy life without interruption!
Kohler Generators...
For Comfort, Safety, & Security
Call Us Today!
Generator Installations - Done Right The First Time!
KOHLER Home Generators provide affordable and automatic emergency backup power to support your electrical and safety needs by keeping the power on - when and where you need it, without interruption.
This no-worry solution provides the power to protect your home, family, and assets - the things that matter most - when a power outage hits. Never worry about a flooded basement again, your generator will keep that sump pump running!

Don't get caught in the dark, or the cold, or the heat ever again... Call today to have Hannabery HVAC professionally install a reliable, efficient, and quiet Automatic Standby Generator for your home or small business.
A Kohler automatic standby generator, available in the popular 14kw and 20kw models (other sizes available), seamlessly backs up the circuits you choose during a power outage. It automatically starts within seconds of detecting power loss, and runs on the home's existing natural gas or LP fuel supply. You'll be able to choose a backup option from essential circuit, managed whole-house or complete whole-house coverage.
---
*To keep their remote stations operating during power outages, the National Weather Service and National Oceanic and Atmospheric Administration depend on KOHLER Home Generators.
Stay Protected with a Kohler Generator
It fuels automatically...
A permanently installed backup generator is fueled automatically, much like your furnace or other natural gas or LP powered appliances. The generator is connected to your existing fuel supply to deliver clean, worry-free power. If you're away from home when the power goes out, you won't have to worry about a thing.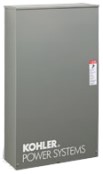 It starts and stops automatically...
Just like your heating and cooling system is controlled by a thermostat, a Kohler generator is controlled by a transfer switch that senses when utility power fails, starting the generator automatically within seconds. When utility power resumes, your Kohler generator shuts itself down and automatically switches back to utility power. It even performs a "self-diagnostic" test automatically once a week, starting and stopping to ensure it's ready for the next power outage.
Why Choose a Kohler Generator:
Safer power for sensitive electronics -

Many non-utility power sources can damage and degrade sensitive electronics due to unstable power quality or high levels of total harmonic distortion. Kohler generators deliver clean, safe and stable power that meets strict utility requirements. Your valuable electronics will be protected while running on KOHLER power.

More powerful performance -

Kohler's exclusive PowerBoost™ technology provides greater motor-starting capability for large electrical requirements, such as central air-conditioners, while still running your other critical loads.

Faster response -

When utility power fails, KOHLER generators restore power to your home three times faster than competitive models.

Quieter operation -

KOHLER sound enclosures keep the generator operating noise levels to 65 dBA at seven meters (roughly 23ft), similar to the noise levels of a typical air-conditioner.

More sophisticated diagnostic self-test-

KOHLER generators perform a self-diagnostic test weekly to ensure your generator is ready to start and run when needed.

Liquid propane or natural gas -

Factory set for natural gas, easily converts to liquid propane.

Superior Warranty -

Kohler generators pack more than 90 years of

Proven

performance into a truly commercial-grade power system for your home or small business. And they are backed by a limited 5 year warranty -

One of the Best in the Industry.
See a Honeywell Generator Installation in Allentown, PA
As a licensed Air Conditioning & Heating Contractor, Hannabery HVAC provides high quality, professional standby generator installations, standby generator replacements, standby generator repairs*, standby generator maintenance*, and related services for the greater Lehigh Valley; including Allentown, Bethlehem, Easton, and all of Eastern Pennsylvania.
*Important Note: We can only perform service and maintenance on generators that we install.
Have your Automatic Standby Generator installed today!
Call us at 1-800-544-4328
or click below to receive your...
[Must be in our service area]