FAQ's - Frequently Asked Questions:
Copyright © 1997 Hannabery HVAC. All rights reserved.

---
How often should I have my equipment serviced?
Routine Maintenance Inspection...
Call Us Today!
Heating and Air Conditioning equipment, no matter what kind you have, should be inspected, cleaned, and serviced at least once a year. The best scenario is to have the heating system checked in the Fall and the air conditioning checked in the Spring. Oil-fired equipment should definitely be cleaned and serviced annually; at the beginning of each heating season.
Just a few of the services performed...
Clean or Replace the Air Filter...
Do you know the last time your filter was checked?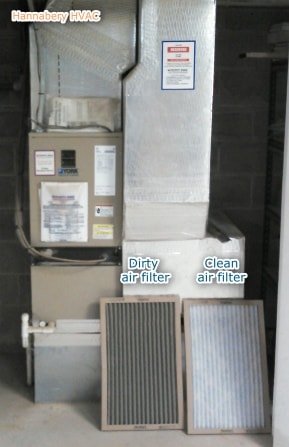 Clean the Indoor Coil...
For efficiency, airflow, and proper drainage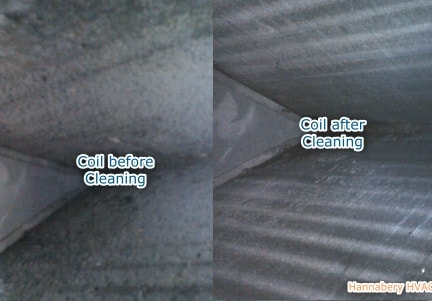 Clean the Outdoor Coil...
Very important for efficiency and life-span of equipment.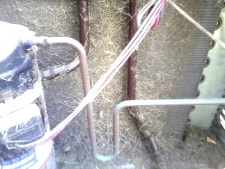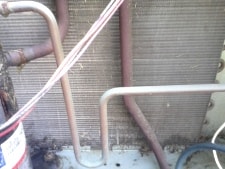 Clean the Condensate Pump...
One of the most overlooked devices, which eventually leads to failure.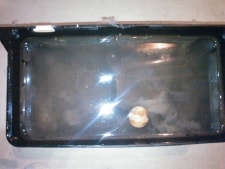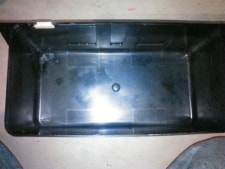 Overall Visual Inspection...
Technician separated two copper lines rubbing against each other.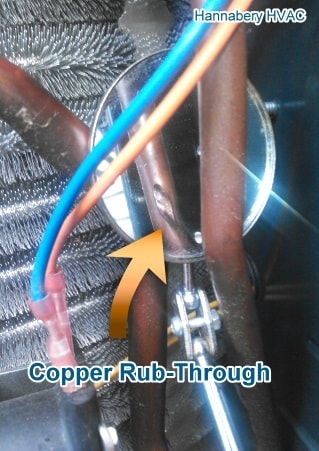 Other Benefits of Routine Service...
Annual servicing includes cleaning the system, checking for any problems or potential problems and adjusting for PEAK efficiency.
Benefits include:
Increased dependability
Find potential problems and fix them quickly
Provide maximum efficiency which lowers energy costs
Prolongs the life-span of the equipment
Maintains safe and healthy operation
Can help to protect the environment
Drastically reduces the chance of a break-down which usually happens at night or on weekends when repair rates are higher
Service Plans may also include:
Discounts on repairs
Discounts on purchases and future replacement
Priority Status for Scheduling
Increased warranty duration
Please keep in mind that the information found on our website is provided free of charge and Hannabery HVAC does not assume any liability resulting from the information we provide. We hope this information helps, but please note that these are just rough guidelines, and not all possible situations are covered. Your HVAC system should be inspected and repaired by a trained technician.
How Comfortable Do You Want To Be?
[Must be in our service area]