FAQ's - Frequently Asked Questions:
Copyright © 1997 Hannabery HVAC. All rights reserved.

---
How to Clean an Electrostatic Air Filter?
The following directions are for cleaning electrostatic air filters. These directions could also be used for similar types of permanent (non-cardboard) air filters, but always follow manufacturer's instructions first.
Cleaning the Air Filter:
Use a garden hose with good water pressure. The filter should have an arrow indicating airflow direction. First spray off the filter from the opposite side of the arrow. Then from the other side.You can repeat this process several times if needed. If the filter is very dirty, spray it with a detergent first and let soak for a few minutes. Then thoroughly spray off with water.
Just be careful not to use too much water pressure or damage could be done to the filter media. When the water runs clear and the filter is clean, simply shake off excess water, let it dry, then return to system.
Filter Cleaning Notes:
Water pressure from a sink or bathtub is usually not sufficient for cleaning. A good vacuum cleaner with an attachment can also be used to clean the filter if there is no access to a garden hose.
Also remember to turn your system off before removing the air filter, and then turn it back on after it has been reinstalled.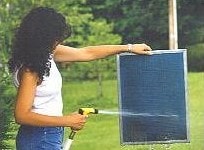 Please keep in mind that the information found on our website is provided free of charge and Hannabery HVAC does not assume any liability resulting from the information we provide. We hope this information helps, but please note that these are just rough guidelines, and not all possible situations are covered. Your HVAC system should be inspected and repaired by a trained technician.
How Comfortable Do You Want To Be?
Call us at 1-800-544-4328
[Must be in our service area]