FAQ's - Frequently Asked Questions:
Copyright © 1997 Hannabery HVAC. All rights reserved.

---
How To Replace Air Cleaner Media For Aprilaire or Space-Gard Air Cleaners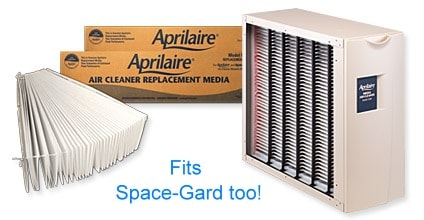 Includes Models 2200, 2250, 2400
Removing the Media Assembly:
First make sure the system is powered off.
Remove the access door by lifting top and pulling door out.
Slide out the inner assembly from the housing.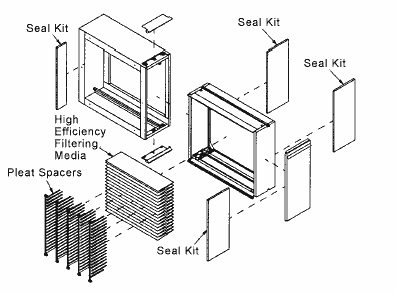 Air Cleaner exploded view
Removing the Old Media:
The black plastic pleat spacers should be facing up. Open both end panels by releasing latches on the sides.
Remove the pleat spacers from the black holding brackets. They should pop out.
Flip up the black holding brackets.
Lift the cardboard flaps clear. Compress the old media and remove.
Discard properly. Can be put into box of the new media, once it is removed.
Installing the New Media:
Take care when handling the new media. It must remain intact to perform properly.
Examine the media. Have the alignment yarn side facing up. Place one cardboard flap over the flange. Expand the media until it reaches the other side and place the other cardboard flap over the other flange.
Caution: Be sure the media is centered in the inner housing.
Place the holding brackets over the cardboard flaps the same way they were removed.
Installing the Pleat Spacer Combs:
To install the spacers start at one end and carefully place one prong of the spacer into each pleat until you reach the other side. It may seem difficult or tedious at first. But once you get the first spacer in place, the rest gets much easier.
Repeat the process until all spacers are installed.

Note:

It is easier to install the spacers close together and then move them apart. The spacers' ends align with notches on the holding brackets and snap together.
Close the end panels and snap side latches closed.
Replacing the Media Assembly:
Slide the inner assembly back into the outer housing.
Replace the access door.
Turn the system back on.
Repeat process in 6 months depending on usage.
Please keep in mind that the information found on our website is provided free of charge and Hannabery HVAC does not assume any liability resulting from the information we provide. We hope this information helps, but please note that these are just rough guidelines, and not all possible situations are covered. Your HVAC system should be inspected and repaired by a trained technician.
How Comfortable Do You Want To Be?
[Must be in our service area]