Local Technicians Pass National Excellence Test
---

Homeowners Benefit!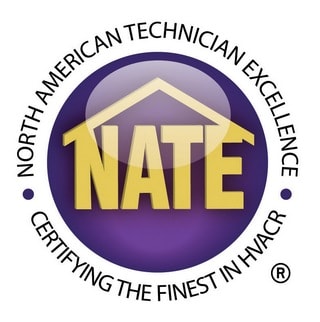 Allentown, PA -- What do you do if you're a homeowner with a heating or cooling equipment problem but you don't know a reliable, knowledgeable technician? Do you ask a friend who may not know more than you do or just pick a local company randomly out of the phone book? Just how qualified are the technicians? How do you know if the technician that comes out really knows what they're doing?
A national certification test has been developed, and is now being administered, to assure that technicians have the skills to do the job. North American Technician Excellence (NATE) offers these voluntary tests to technicians in the areas of heating, ventilation, air conditioning, and refrigeration (HVAC/R). This independent, not-for-profit organization is the nation's leading certification program for technicians in the HVAC/R industry and is the only test supported by the entire industry including the Department of Energy.
Hannabery HVAC of Allentown is proud to announce that 10 of its service technicians passed the NATE Core Exam along with Specialty Exams for Gas and/or Oil Heating earlier this year. This certification benefits local homeowners by giving them an independent standard by which to select a knowledgeable technician to work on their home comfort system.
This certification really helps, said Mike Smith, Service Manager for Hannabery HVAC, who is also NATE certified. It's a way that we can show our customers that we really care about doing the job right, and that we know how to get it done right the first time. Nate technicians are among the very best and we hope to have our entire Service Department NATE certified by the end of the year.
Heating and cooling contractors today are trying to improve their industry's image, says NATE spokesperson Carl Smith. This certification test is national, independent, focused on current technology, and aimed at a high standard for technicians, so only the best will pass. This encourages all technicians to improve their skills in order to keep up with the pack, and that improves the overall industry for everyone!
Hannabery HVAC has been providing sales, service, installation, and maintenance of heating and air conditioning equipment to Eastern Pennsylvania homeowners and businesses for over 35 years. Specialties include indoor air quality and energy-saving products, geo-thermal heat pumps, custom ductwork, professional air duct cleaning and whole-home automatic generator installations. For more information about Hannabery HVAC, call them at 610-366-9400 or visit them online at www.hannabery.com
For more information about NATE, call Carl Smith in Arlington, VA at
703-600-0361 or visit NATE online at www.natex.org.
How Comfortable Do You Want To Be?
[Must be in our service area]