Another Quality Job by Hannabery HVAC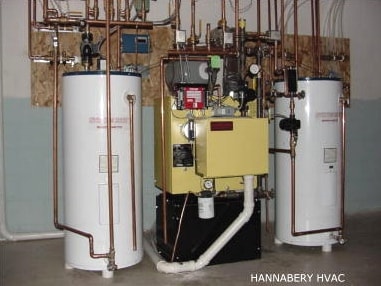 How Comfortable Do You Want To Be?
Home Retrofit Project, Sellersville, PA:
Main Goals - The occupants of this house (who for privacy reasons, didn't want their name on the Internet) wanted several things. Having small children, warm floors during the winter months and plenty of hot water on demand was a priority. Energy efficiency, low operating costs and very quiet but high efficiency air conditioning in the summer was next on the list.
HVAC Challenges - Like many of our other hydronic and radiant jobs, this was mostly a matter of being patient; installing the radiant tubing above head, below the floors, piping and wiring all of the zones to not only look and work well but to be easily serviced if need be. And finally, tweaking the system; purging, balancing, testing and running through all of the different functions.
The Answer - We installed a Wirsbo [joist-bay] radiant floor heating system with an outdoor lockout thermostat and a Lennox 2-ton, 13.55 SEER Air Conditioning system for the first floor. The second floor received a Lennox 2.5 ton, 13.7 SEER Heat Pump with a hydro-air coil. A System 2000 boiler with a 40-gallon indirect hot water system and a 275-gallon oil tank was installed in the basement using the existing chimney. 100% outside air was piped in directly for combustion. The outdoor thermostat is used in conjunction with the heating system to provide the most economical heating possible.
Further Details - The boiler takes care of all the domestic hot water needs through the use of a plate exchanger, circulator and hot water storage tank. Besides providing the radiant heat for the first floor, it also provides supplemental heat to the attic heat pump system through the use of a hydronic coil installed at the air handler. Additional supply connections for heat were installed in the basement with valves for possible future use.
Equipment Details - Energy Kinetics System 2000 Model EK-1 Oil-fired Boiler. The burner has a sealed burner box utilizing 100% outside air for combustion. Lennox Model HS26-024 two ton air conditioner with CB30U-31 air handler. Lennox Model HP26-030 heat pump with CB30M-31 air handler.
Customer Conclusion - We are very pleased with the work Hannabery HVAC did. The workers were polite, clean, and seemed to be quite efficient. We were very happy with our Salesman, Tom Gillaspy. And the Service Department responded quickly to a minor problem after start-up and made the fix. From top to bottom, Hannabery is a first class organization. We love the equipment. As promised, we have never run out of hot water and the house is very comfortable. Sorry for not wanting our names on the internet.
Thank you,
A satisfied customer, Sellersville, PA
If you would like to be profiled on our website, just let us know. Thank you!
Installations Done Right... The First Time!
How Comfortable Do You Want To Be?
[Must be in our service area]