Another Quality Job by Hannabery HVAC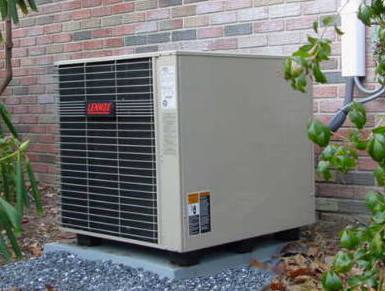 How Comfortable Do You Want To Be?
Mike Sanders, Allentown, PA:
Job Introduction - After 30 years of suffering, my wife and I decided to install central air. We made inquiries to 5 Allentown companies listed in the Yellow pages. Two declined to quote citing the complexities of what we would need. [We have an original, older house with a larger addition attached]. Hannabery HVAC was the ONLY company who took the time to submit a plan based on a careful study of what was needed. They explained their reasons clearly and submitted a professional quotation on precisely what we wanted.
Job Comments - I had a 2 ton and a 2-1/2 ton Lennox Air Conditioning system installed; complete with central ducting. The work was done professionally by two men in one week. The systems work exactly as advertised and are very quiet! The installations are tidy and cleverly designed to take a minimum of useable space. Tom Bartos, our Salesman, was as good as his word and we are well pleased.
Heating Season - 6 months later, Hannabery HVAC returned at my request to remove my 25 year old cast iron boiler. In its place, I ordered an Energy Kinetics System 2000 steel boiler with a separate domestic hot water system. The boiler includes an extremely efficient oil-fired burner with state-of-the-art controls. The Hannabery crew did a neat and tidy job. They also had to replace the oil tank vent piping which was found to be clogged.
Job Details - There were a few complications to resolve. Mike's old boiler system took up a lot of room with pipes and circulators everywhere you looked. Mike wanted the 5 heating zones, the circulators, and all the wiring to be installed in an aesthetically pleasing way. He also wanted us not to take up too much space as he was going to repaint his boiler room and turn it into a showplace. So as not to disappoint him, all of the heating zones and corresponding components were numbered and labled for ready access and ease of servicing. The wiring was enclosed in conduit where possible.
Equipment Details - When running, the boiler is so quiet, I cannot hear it upstairs. The old one used to vibrate the floor and we could even hear it on the second floor. There is a helpfully simple display of operating LED lights which tell me at a glance what circulators are running and what my boiler water temperature is.
Although much smaller in size, my new boiler has no trouble providing the desired heating of our rooms. Obviously, Hannabery HVAC sized my installation properly. And it's great to not have to worry about running the dishwasher before taking a shower any more. We no longer ever, run out of hot water..
Customer Conclusion - I would conclude by complimenting all of the Hannabery HVAC staff who have worked in our home during the past year. They have all been most friendly and accommodating to my several "druthers" and they were professional in the execution of their jobs. That they know what they are doing has been obvious.
It has been my pleasure dealing with this firm. I have received my money's worth. I would recommend Hannabery HVAC to anyone who wants a heating or air conditioning project done efficiently at a fair and competitive price.
Thank you,
Mike Sanders, Allentown, PA
If you would like to be profiled on our website, just let us know. Thank you!
Installations Done Right... The First Time!
How Comfortable Do You Want To Be?
[Must be in our service area]