Another Quality Job by Hannabery HVAC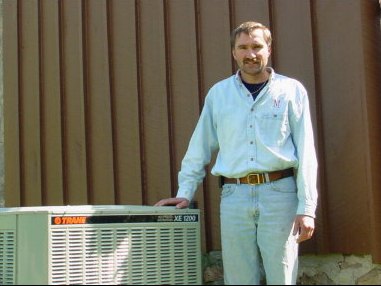 How Comfortable Do You Want To Be?
Dave Tori, Holicong, PA:
A Do-it-Yourself Story - Dave Tori lives in a 200 year old fieldstone bank barn located on 20 acres in Central Bucks County. In 1983, Dave started to renovate this building, doing all of the work himself. After 7 years, it was livable and he and his family moved in. After many years of hot summers, they decided that it was time to install an Air Conditioning system.
Throughout this past winter, Dave installed the Air Handler and ductwork up in the attic, cut in the vents to the bedrooms and open central areas, and used closet spaces to drop ductwork down to the first floor. Things turned out beautifully and he was very pleased with the results.
Dave chose a Trane system because of the quality product they build, and he is an employee of 25 years at the Trane Trenton Facility where Residential Gas Furnaces are produced.
Job Details - Gino Nicolai and Bill, a Hannabery HVAC Service Technician worked with Dave on the project. They provided Dave with all of the necessary materials to complete the job. They advised him on the entire job process which included the duct layout, how to install the duct system, how to handle, cut, and seal the ducts, running the wires, piping, and drain, installing the equipment, registers and grilles.
Finishing Touches - Bill, our service technician, being certified to handle refrigerants, did all of the brazing and charging of the Air Conditioning system. He also made the high and low voltage wiring connections after Dave had run the wires. When finished, Bill did a Start-up of the equipment making sure everything worked properly.
Equipment Details - Dave, because he works for Trane was able to supply the Trane equipment; which included the indoor Air Handler with Evaporator Coil, the XE 1200 High Efficiency Condensing Unit and a White-Rodgers Thermostat.
Customer Conclusion - Hannabery HVAC was extremely helpful to me with this project. Gino came out to my home to do design work, deliver material and give me some direction on installation technique.
Bill worked with me towards the end of the project with wiring, charging, and start up of the system. I was very happy with the services that were provided. Hannabery HVAC's willingness to lend assistance to do-it-yourselfer's made this project a reality for me.
I would recommend Hannabery to others, in fact I have already referred Hannabery to several friends who have hired you to do work for them."
Thank you,
Dave Tori, Holicong, PA
If you would like to be profiled on our website, just let us know. Thank you!
Installations Done Right... The First Time!
How Comfortable Do You Want To Be?
[Must be in our service area]