Another Quality Job by Hannabery HVAC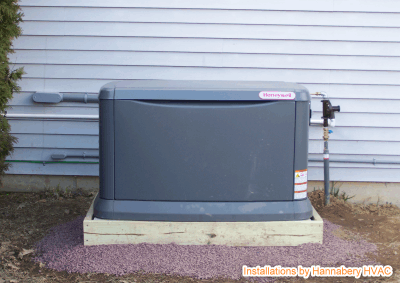 How Comfortable Do You Want To Be?
Ron Steinleitner, Allentown, PA:
Job Introduction - We selected Hannabery HVAC to purchase/install a Honeywell (Generac) 20kw backup generator for our home. We have been looking at installing a unit for the last two years, ever since we had two (multi-day) major outages along with more than a few (multi-hour) outages.
While we had done some investigating on sizes and brands, it wasn't until Hannabery HVAC (since we have been using them for HVAC service ever since our house had been built 19 years ago) had announced that they were adding this service to their existing portfolio, that we decided to act.
Job Details - A Hannabery salesman (Adam) came to our home to do a site/use survey the day after I contacted them, in mid-January. In addition to the generator/install process, he also discussed our plan to install an underground 500-gallon propane tank to supply the generator. We had to go with propane due to not having natural gas lines in our area, and we wanted to ensure that we would have enough fuel to run the generator 5-7 days (the time of our last two major outages) without having to worry about a propane truck getting here if there was a major outage across the area.
Adam confirmed that our home electric needs (an all-electric home with heat pump) could be met by getting a 20kw unit along with a "managed" solution, through the use of "load sheading". A managed system will ensure that the critical circuits would remain on, while those circuits (in our case, six) would be deactivated (by our stated priorities) if the generator would risk being overloaded, and possibly losing all circuits.
Adam also did a site survey in order to show where we could place the generator in order to meet both electrical and township code reqirements. We decided to execute the contract in about a week. However (as Adam warned us), the generator could not be delivered quickly due to the manufacturing backlog caused by Hurricane Sandy.
Upon looking at some commercial generator supply sites, I could see that he was truthful in his statement. Normal contract requirements stated 50% down at time of contract signing, but this was foregone due to the delay which was beyond their control. So I did not have to pay anything until the generator and all electrical work was completed.
Job Comments - The generator was received from the factory two months later and the install work commenced a week later. The installation supervisor (Dan) and his electrical/mechanical installers completed the work in four days; 3.5 days for the electrical and .5 day for the generator "stress test" to make sure all circuits were wired properly, along with putting a full load on the system, and yes, it handled all electrical needs, as designed!
The township inspector arrived about a week later. He commented that he was impressed with the wiring that was done - saying that it was one of the best layouts he had ever seen, along with extra points for "neatness", and the inspection approval tag was affixed to the unit at the end of his visit.
Customer Conclusion - All in all, we're quite pleased with the work that Hannabery HVAC performed and the way the Honeywell generator performs. Currently, it only does it's weekly test to ensure that it is running properly - but more importantly that it is ready for the next outage, major or minor. We can't wait!
For price, quality, punctuality, professionalism, and commitment to service, we give Hannabery an overall grade of A.
Thank you,
Ron Steinleitner, Allentown, PA
If you would like to be profiled on our website, just let us know. Thank you!
Installations Done Right... The First Time!
How Comfortable Do You Want To Be?
[Must be in our service area]