Another Quality Job by Hannabery HVAC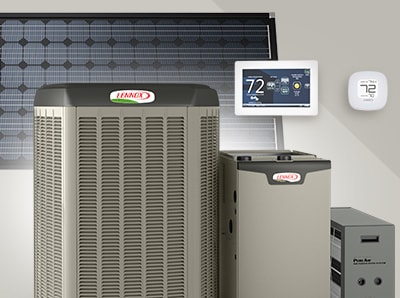 How Comfortable Do You Want To Be?
Gary Katen Home & Historic Hunting Lodge, Lords Valley, PA:
To Whom it May Concern - I recently had a new HVAC System installed in my home in Lords Valley, PA. Like you, I also own a service business with outside field technicians and can appreciate it when a project is completed in a professional and organized manner. Each person involved with the project should be highly commended for their professionalism and expertise in the installation of the system.
My home is considered to be a well-known, historic hunting lodge. As such, it goes without saying that I am extremely concerned whenever anyone performs work for me at the property. I met with many of your competitors as well as with Jeff from your Sales team who prepared the quotation for the system and described the installation process to me and put me completely at ease. After a subsequent meeting with Mike, the Installation Supervisor, who went through the layout of the ductwork and installation location with Jeff and myself, I was even more at ease.
I visited my home last evening, as I was informed by Jeff that there was a good chance that the work would be complete. I must tell you that I was amazed at the professional manner of the installation, as well as the neatness of the job and the overall appearance of my home. Both of the Hannabery mechanics involved, David and George should be highly commended for a job well done. I plan on taking digital photos and sharing them with my team who will later attend a corporate picnic at my home in PA over the summer. To think that I postponed my cleaning person to clean after your guys were through. I actually think the house is cleaner than before they got there.
Excellent, excellent, excellent job by all on your staff. Please feel perfectly free to share my contact information, should you ever need a reference. I know I'll be telling all of my friends in the management staff of our development about your firm. Best regards to you and your team.
Customer Comments - Hannabery HVAC did a super job installing our new gas heating system. A good heating system is vital for a museum that cares for and collects priceless treasures from our community's past. We need to be sure that the temperature inside the museum remains constant year-round so that our valuable artifacts are protected for future generations.
The Hannabery people were knowledgable and worked quickly, but carefully. Hannabery HVAC came highly recommended when Historic Bethlehem's Kemerer Museum was investigating ways to save on heating costs. Historic Bethlehem recommends Hannabery HVAC most highly.
Sincerely,
Gary E. Katen
If you would like to be profiled on our website, just let us know. Thank you!
Installations Done Right... The First Time!
How Comfortable Do You Want To Be?
[Must be in our service area]