FAQ's - Frequently Asked Questions:
Copyright © 1997 Hannabery HVAC. All rights reserved.

---
What Size Heating / Cooling System Do I Need?
Size Does Matter...
Call Us Today!
We get asked this question all the time. And having the HVAC system properly sized is extremely important.
---
A system that is too large will cool or heat your house quickly, but you may not feel comfortable. That's because it will satisfy the thermostat before it can adequately remove sufficient moisture from the air during the cooling mode, leaving you feeling sticky and humid. This could even lead to moisture and mold problems. And, the stress of short-cycling (too many starts and stops) will shorten the life of your equipment and increase your heating and cooling bills.
On the other hand, a system that is too small just cannot get the job done, especially in extreme weather conditions. The air conditioner will run constantly in the Summer and the furnace will do the same in the Winter.
But a correctly sized system isn't just based on the size of the structure. Many factors go into determining the size of the system. Including type of house and walls, type and size of windows, insulation, basement and attic conditions, house orientation, and so on. A Salesman must visit the house and take detailed measurements and notes while conducting the survey.
At Hannabery HVAC, we use a computer-aided Heat load calculation to properly determine the correct system size needed for your home or office. We even do a room by room load calculation. This heat loss/heat gain analysis is the best indicator of the correct system size and provides the optimum results for efficiency and comfort.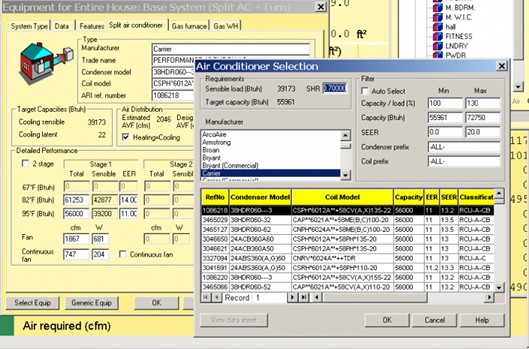 Please keep in mind that the information found on our website is provided free of charge and Hannabery HVAC does not assume any liability resulting from the information we provide. We hope this information helps, but please note that these are just rough guidelines, and not all possible situations are covered. Your HVAC system should be inspected and repaired by a trained technician.
How Comfortable Do You Want To Be?
[Must be in our service area]