Winter Weather Heating Tips: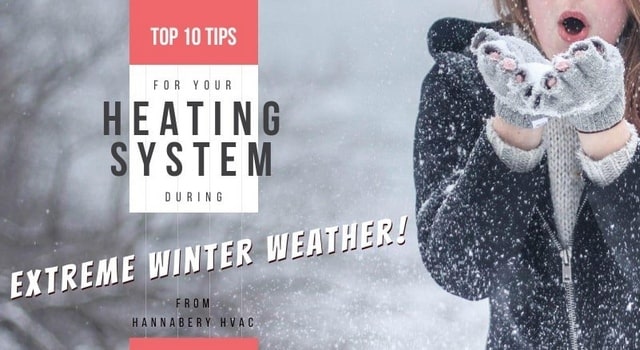 First and foremost, we suggest having your Heating system inspected annually for extending the life of equipment, efficiency, and safety.
To our Valued Customers and E-News Subscribers...
This is a special message from the Service Department at Hannabery HVAC
It is very important to remember that if you have a heat pump, all snow and ice needs to be cleared from the top and all sides of the unit.
Heat pumps can ice-up during the winter time. And it is normal for the entire coil to be covered in a white frost, even light ice, during certain weather conditions. But it is not normal for the entire unit to be encased in ice; including the top of the unit and the insides of the coil for an extended period of time. This indicates a problem and should be addressed quickly to save energy and avoid serious damage to the equipment.
If your heat pump is raised, make sure the bottom is clear of snow and ice to allow for proper drainage during the defrost cycle. If the drain holes at the bottom are blocked, the outdoor coil will freeze and ice-up around the base of the unit, severely effecting performance.
Most heat pumps will shut down the outdoor unit when the outside temperature drops close to or below 0 degrees. This is normal and the backup electric heat will maintain your set temperature.
Also, most 90-Plus (High-Efficiency) Gas furnaces and many Gas Boilers have venting and fresh air intakes located on the side of your home. So please make sure to clear all snow and ice away from any intake and exhaust vents on the side of your home. Failure to do so may cause the intake pipe to pull in snow and shut down the unit - leaving you with no heat.
Gas hot water heaters that are side-wall vented also need to be kept clear to avoid exhaust gases from backing up into your home.
Regardless of the type of heating system you have, when the outdoor temperatures are below 20 degrees, it is not recommended to set your thermostat back several degrees at night or during the day. The systems are designed to maintain temperature at these conditions and not necessarily make up a 5-7 degree difference.
Also make sure your air filters are clean and of the proper type. A dirty or restrictive filter may cause your system to work harder and less efficiently, and in some cases may not allow your system to maintain the set-point on your thermostat.
If you do require service, please make sure all driveway and walkways are clear and if you have a heat pump, there should be a clear path to the outdoor unit. This is for your safety and the safety of our employees.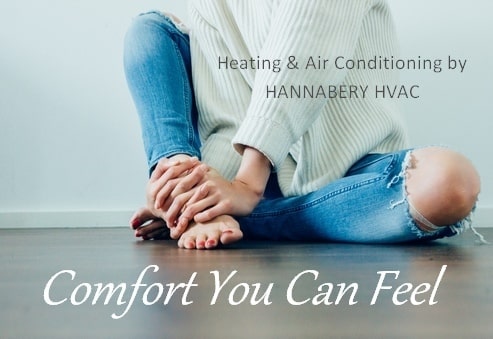 We appreciate you taking the time to review this message and if you are in our service area and have any questions, please contact our Service department.
Please keep in mind that the information found on our website is provided free of charge and Hannabery HVAC does not assume any liability resulting from the information we provide. We hope this information helps, but please note that these are just rough guidelines, and not all possible situations are covered. Your HVAC system should be inspected and repaired by a trained technician.
How Comfortable Do You Want To Be?
[Must be in our service area]