OIL SMELLS AND SOOTING PROBLEMS
---

Oil-fired Hot Water Boilers...
Problems & Solutions
There are several reasons for smelling oil in your home. The good news is that all of them can be avoided. The most common reason for the smell of oil in your home is actually a natural occurrence created by wind load. As the winds pick up outside, your home acts as a natural barrier to stop the wind. This creates differing pressures on the outside of your home, vacuum on the sides and back and load on the side the wind is coming from. This is much like what happens to an airplane wing to create lift. The flow of air is interrupted from its natural straight path and diverted over the wing to create a vacuum above and positive pressure or lift on the underside.
While science shows us how to make a wing lift it can also solve our problem with smells in the home. What is happening in your home is that the interior of the home has enough negative pressure that it actually acts as a giant vacuum cleaner. The house wants to neutralize this pressure and looks to get air in wherever it can; under doors, around windows, and even through small cracks in the walls. In many of the tighter, better insulated homes, the path of least resistance for air pressure equalization is down the chimney, through the heating equipment and into the basement, up the stairs, right by your nostrils and well - you get the picture.
To solve this problem there are a couple of steps to take. The best way to eliminate this problem with a heating appliance is to detach it from the home. This is called sealed combustion. A box encloses the burner or a boot is attached to the burner air intake. This is connected directly to the outside with a small sealed pipe. Most homes need only a two or three inch pipe. By detaching the heating appliance from the home it neutralizes the pressure within its own closed system and you don't get the oil smells.
On heating systems that require a draft regulator, there may be some leakage back into the room in small amounts but with a properly operating draft regulator the movement of air is out of the home when the unit is running to stabilize draft.
Don't let a heating contractor tell you to open a window. While this neutralizes the pressure in the entire basement it is a real energy waster, a potential safety hazard, and an attractive nuisance for criminals and vermin.
Other appliances in the house can have the same effect as wind load. Air handlers and duct work not properly sealed will suck air in and spread smells. Whole house fans, window fans, stove hoods, bathroom fans and dryers all move plenty of air and replacement air has to come from somewhere.
A properly operating modern heating system should not create soot. This is the smell of unburned oil. If this is happening to you in your home you may be in need of service and a cleaning, or an updated burner, burner liner or chamber, or an accurate combustion set-up from a service technician with good diagnostic instruments.
Why System 2000 customers never smell oil in their homes: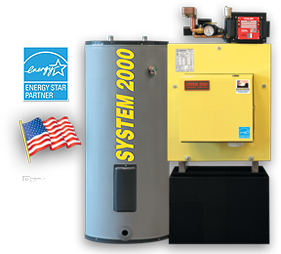 The oil is fired in a ceramic chamber at nearly 2200 degrees. This is 300-500 degrees hotter than most appliances. The chamber is so hot that any oil that is sprayed into this chamber is incinerated completely. It's much like the catalytic converter in your car. It re-burns any stray particles however minute to reduce emissions to very close to zero.
System 2000 comes standard with the first sealed combustion system in the industry. A special box encompasses the entire burner assembly and a 2" PVC pipe is then plumbed outside your home to provide combustion air. An added benefit is a noise reduction of more than 50%. This means your heating system can make less noise while running than your microwave.
Energy Kinetics System 2000 uses the latest in burner technology. Each burner is equipped with a 14,000 volt igniter rather than a 10,000 volt transformer for a hotter more dependable spark. Each burner has a high pump pressure for better atomization of the fuel. Each burner is equipped with an oil valve to ensure positive starts and stops and no leakage or dripping in the off cycles.
System 2000 is the only manufacturer that does not recommend or require a draft regulator on their heating system. Draft is stabilized using the chamber and long flue passage. This increases efficiency and ensures you of a sealed combustion system with no flaws.
System 2000 recognizes the possibility of break down and failures with the burner or fuel supply so they also provide as standard equipment a safety device that measures flue gas flow (the vacuum in your chimney). This "Puff Switch" will turn the heating system off if it starts making soot or becomes clogged due to leaves, birds or deterioration or any other cause of loss of draft.
This article may not be copied or used in any way without our written consent.
Hannabery HVAC has been providing sales, service, installation, and maintenance of heating and air conditioning equipment to Eastern Pennsylvania homeowners and businesses for over 35 years. Specialties include indoor air quality and energy-saving products, geo-thermal heat pumps, custom ductwork, professional air duct cleaning and whole-home automatic generator installations. For more information about Hannabery HVAC, call them at 610-366-9400 or visit them online at www.hannabery.com
How Comfortable Do You Want To Be?
[Must be in our service area]